Individuals with muscular dystrophy, spinal cord injury, or other mobility impairments, are often unable to roll themselves over in bed.  Because they're unable to reposition themselves, many require personal caregivers to come in and help every so often.  The Wireless Attendant Call Button Alert Chime gives these individuals an easy way to page for help.
You may be wondering, "Why don't they just shout for help?  Why don't they just call caregiver on their cells?"  Well, I can't speak for everyone, but when I'm laying down, I know I'm fighting gravity.  So something as "simple" as picking up my cell and dialing on it can take me several minutes.  This is where that Wireless Attendant Call Button can come in handy!
The Wireless Button system is designed for individuals with limited to no finger use.  With this system, users can quickly and easily press a switch to call for help.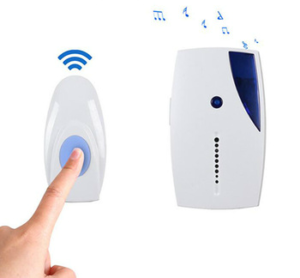 Features of Wireless Attendant Call Button:
Easy-to-press button sends alert to caregiver
If button is too difficult to activate, the system also works with a switch (sold separately)
Signal travels through walls 75 feet or greater
A variety of chime sounds to choose from:

Adjustable volume and a silent mode (light only)

Transmitter button is waterproof
Requires 2 AAA batteries (not included) and 1 12-volt battery (included)
Additional options:

Belt clip: to make it easy for the caregiver to wear chime on waistband
Device lanyard: allows user to wear the button around neck

1-year warranty