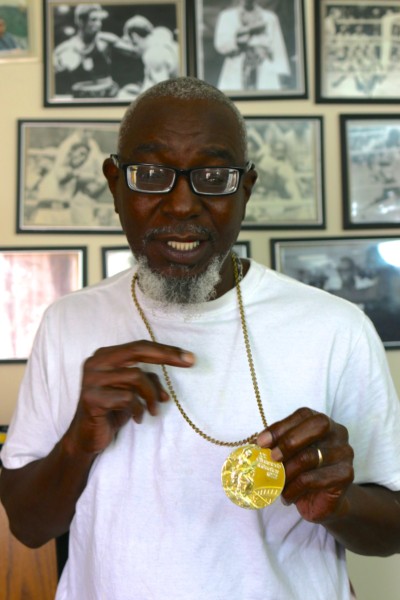 I woke up the morning that I was to meet Sugar Ray Seales and I thought to myself, "Wow! I get to meet an Olympian and hold a gold medal!!" I have
always liked the sport of boxing so when I learned that we had a consumer who had used our services and had won a gold medal for boxing in the U. S. Olympics, I was very excited to go interview him and learn more about his story.
"Sugar" Ray Seales was born in 1952 in Saint Croix, U.S. Virgin Islands. He was the only American boxer to win a gold medal in the 1972 Summer Olympics in Munich, Germany. His dad was a great boxer in the military and Ray and his brothers grew up boxing. In 1962, Ray's brother got hit in the eye by a piece of fruit and it knocked his eye out. Ray's uncle told Ray's mom that there were specialists in Tacoma, Washington that could treat his brother. So the family, which included 3 brothers and 4 sisters, moved to WA when Ray was 12. Unfortunately, the surgery was not successful for his brother.
While living in Tacoma, Ray and his brothers built a boxing team. Ray said they learned to box from their dad who had 31 wins and 1 loss in the U. S. Army. Ray spent his adolescence at the downtown Tacoma boys club. He told me, "I worked really hard at boxing because I wanted to be somebody. I had an accent and was different, so I wanted to prove that I was somebody." He told me he was very proud of the Tacoma Boys Club amateur boxing program where Joe Clough coached him.
When he started to win in matches all over the United States including the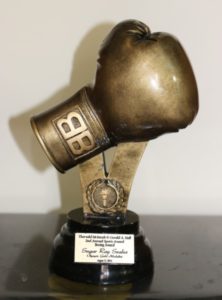 Golden Gloves Welterweight Championship, his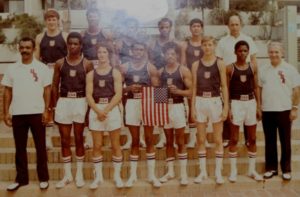 dreams about being in the Olympics started to come true. His mom was so sure that he would make the Olympics that she bought a plane ticket to Munich 6 months before he qualified. Both his mom and dad were able to be there when Ray was the only American gold medalist in boxing.
Ray boxed for 19 years. He had 430 fights, 200 knockouts, and only 19 losses. He won the gold medal for boxing in 1972 and then became a professional boxer in 1973. During those years he had many achievements such as, NABF Middleweight championship (1976-1977), USBA Middleweight Champion (1977-1980), and NABF Middleweight champion (1981-1982).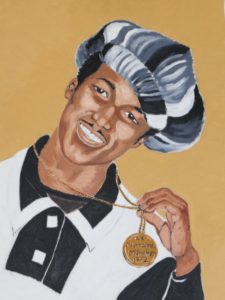 In 1980, Ray got thumbed in his left eye during a bout, which lead to him having a detached retina. This was the beginning of his eye problems and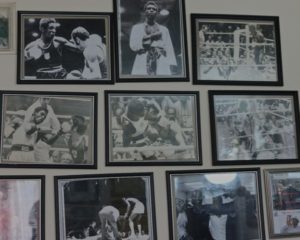 eventually led to him ending his career in 1983. Ray suffered with detached retinas in both eyes, yet kept fighting, until boxing officials said he could no longer compete. Ray had 7 different eye surgeries to try to correct his vision. In the late 80's entertainer Sammy Davis Jr. and his orchestra performed at a benefit to help Ray will all of his medical bills. He had many prominent boxers attend such as Muhammad Ali and Ray "Boom Boom" Mancini.
Ray is now living in Indianapolis. He met his wife in 1981 and they were married in 1987. They now have grown children and grandchildren. Ray told me about giving up fighting and how hard it was for him. He told me he had been struggling with detached retinas since 1981. He said he remember the last fight which was in Denver, CO. He said it was one of the worst snowstorms Denver had ever had where people could not even leave work. He won with a 1 round knockout, but started to see less immediately after the fight. He said at this point he was close enough to fight for the world title. He had 1 more fight scheduled and he said his coach told him, "No!"
I asked Ray who his favorite boxer has been and he said without hesitation, "Muhammad Ali. He was the best of all time." I asked him whom he wished he could have fought and he said, "Sugar Ray Leonard. I would have busted him up."
After Ray retired from boxing and was declared legally blind, he worked for 17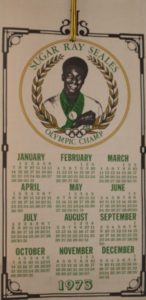 years at Lincoln High School in Tacoma Washington. He taught autistic children in the school system daily living skills. He told me it was a very rewarding career. Ray is very proud of his boxing career and teaching career. He told me another highlight of his life was being honored by the U.S. Virgin Islands in 1984 when they declared April 14th Sugar Ray Seals Day by proclamation.
Ray now spends his time as a boxing coach at Indy Boxing & Grappling(IBG). He is very proud of the gym and excitedly told me that they have boxer, Frank Martin, who is Indy's first national boxing champion in 32 years.
Ray told me that one of the MMA fighter's wives at the gym told him about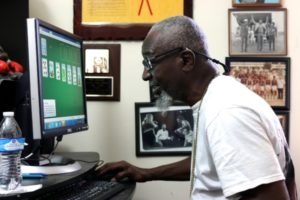 Easterseals Crossroads' services for people in Indiana who have a disability. Ray had been hoping to be more active with promoting the boxers, scheduling and in being able to communicate with everyone at the gym and he did not have a computer. Easterseals Crossroads has a computer reutilization program, where donated computers are sanitized and repaired and given to individuals who have a disability and live in the state of Indiana. These computers are given away to recipients for free and they are also installed with Microsoft Windows and Office software at no charge.
Ray told me he was very excited to receive his computer and talked about how friendly and helpful Alvin Alviar, ReUse Coordinator, was to him when receiving the computer. Ray told me that Alvin made the application process and receiving the computer very easy. He told me, "Alvin, really knows how to treat people."
Ray is very excited to continue his coaching at the IBG and says the computer will help him promote the gym, coordinate training times, have a social media presence, and provide him the opportunity to communicate better with all the athletes at the gym. He is very excited to be able to continue participating in a sport that he has loved his entire life.