Children and teachers alike can't get enough of the Super Sorting Set with Activity Cards from Learning Resources!  It is a "comprehensive manipulatives set featuring more than 620 color-coordinated sorting items and Super Sorting Activity Cards."
The set teaches countless skills (e.g. math, social, sensory integration, etc.) for individuals ages 3 and up.  Because there are hundreds of small pieces, it is recommended children play under adult supervision.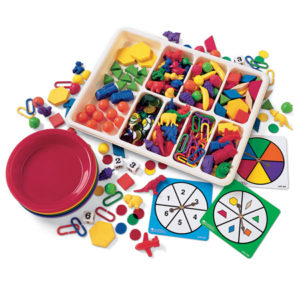 It is an ideal educational activity for children with:
ADD and ADHD
Autism
Brain Injury
Down Syndrome
Dyscalculia
Hearing Impairments
Visual Impairments
And more!
Key Features of Super Sorting Set with Activity Cards:
Because there are so many pieces, children can have as many or as few pieces as they can manage (physically, emotionally, and cognitively)
Teaches basic concepts and math in a fun, interactive way
Combination of easy-to-identify and novel pieces help with object identification and vocabulary development
Super Sorting Activity Cards can help children with more advanced skills – they can match the real object with the illustration of that object
Provides hand-eye coordination practice and encourages fine motor skills
There are enough pieces for several children to play; this further encourages social interaction, cooperative play, and game etiquette
What's Included?
620 color-coded sorting items
Super Sorting Activity Cards
6 sorting bowls
Heavy-duty 8-compartment tray (measures 14.25″ x 11″)
Number cube
3 spinners
Friendly Farm Animals
Mini Motors Counters
Fruity Fun Counters
Link 'N' Learn Links
Pattern blocks
Transparent counters
Teaching Guide
The Super Sorting Set is available from both Learning Resources and Amazon.