Ahhh… I breathe in and grin as the gentle smell of freshly cut blades of grass pierces my nose.  I close my eyes as the golden sun kisses my face and excitedly squeal: it is finally Spring! Eeeek!  It's time to happily bid adieu to the frozen, gray skies and welcome the warmth of summer's sweet embrace.  What better way to celebrate warm weather than with fun outdoor products for your kiddos?!
I could easily list off a catalog of products to entertain your children.  However, I wanted to highlight the following products as they are both fun and beneficial to a child's developmental skills.
8 Outdoor Products for Children with Special Needs:
Who doesn't love a good scavenger hunt?  Even to this day, I still genuinely love scavenger hunts.  They always encourage socializing and exploring!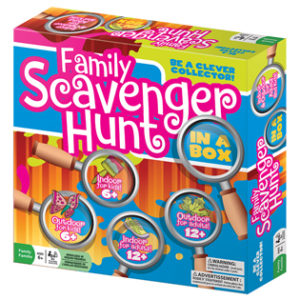 The Family Scavenger Hunt game is no exception.  It features decks of cards that can be played both indoors or outdoors, making it a fun activity no matter the weather!
Features:
Contents:

For kids ages 6-11:

1 deck of Indoor Kids (70 cards)
1 deck of Outdoor Kids (70 cards)

For players ages 12+:

1 deck of Indoor Adult (70 cards)
1 deck of Outdoor Adult (70 cards)

Giant spinner board and spinner, pencil, score pad, and instructions

Kids can work together as teams or compete against one another to find required objects
Skills:
Works on executive functioning skills such as:

Focus
Attention
Organization

Encourages physical activity
Promotes socialization
Encourages turn-taking and working together
Children can work on language skills as they express what they're looking for
The Jungle Jumparoo is a 3-in-1 toy that can be used both indoors or outdoors.  It is a climbing, bouncing, and swinging toy that may help improve overall body strength and endurance.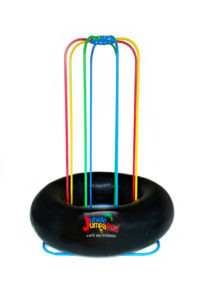 Features:
For children ages 2 and up
Ideal for backyards, indoor playrooms, preschools, daycares, and playgrounds
Metal steel poles are painted with powder coating to ensure weather-resistant and rust-free frame
Does not come with tube cover, bumper covers, or rope swing.  Those are all accessories which are sold separately.
Skills:
Can help overall body strength and endurance
Encourages language and social skills
Provides a lot of sensory input
Jumping improves circulation and allows children to gain better body control and overall balance, stamina, and awareness of body positioning
Swinging is a favorite activity for individuals young and old!  The High Backed Full Support Swing Seats grant individuals of all abilities the ability to swing.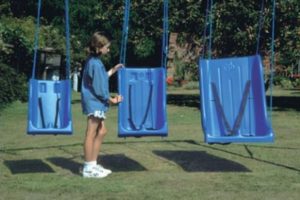 Features:
Extra secure and safe ride for children, teens, and adults; seat dimensions and weight limits vary on size
High backs, a pommel, and a safety harness help keep the user stable and in place
Made of highly strong and durable plastic that feels soft to the touch
Contents:

Swing Seat
Ropes
Hooks (for attaching to bracket)
Skills: 
Provides much-needed sensory input
Can improve motor planning, coordination, and organization skills
May help increase trunk strength and control
I recently watched my little nephew at soccer practice.  One of the activities was the colorful, large parachute I used to do in gym class almost 20 years ago.  I remember always loving the parachute in gym class; we'd crazily wave the parachute and giggle, then we'd all run under it.  I remember how engaging and colorful the whole activity was.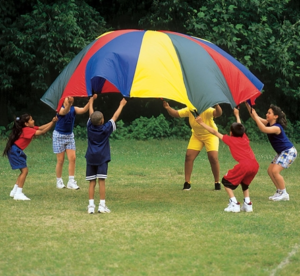 But as I recently observed my giggling nephew under the swirling nylon rainbow, I wondered what are the benefits of parachute play?  And where can I find one?  (Note: This particular one is from Flaghouse, which offers a lot of resources for individuals with special needs.)
Features:
This one is 6 feet with 8 handles

"Every 1 foot of diameter accommodates about one user; so 12 students would need a 12 feet parachute."

Suitable for indoor or outdoor use
Can be used in a standing or sitting position; differing abilities aren't an issue
Sewn-in web handles around the edges make the parachute easier to grasp
Skills:
Encourages physical movement
Promotes social interaction
Reinforces turn-taking/sharing
Enhances language development
Helps develop a sense of rhythm
Another timeless product and activity for outdoors: bubbles!  Children of all ages love bubbles; the bigger the bubble, the better!  Bubble Thing offers a product that allows users to blow ginormous bubbles.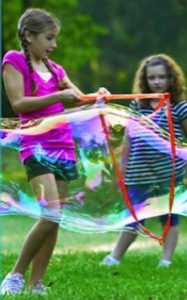 Features:
90-inch open and closable fabric loop blows bubbles all shapes and sizes up to 20-feet long!
Available in different packages
Contents of Bubble Thing + Mix package:

The fabric wand
BIG Bubble Mix makes 2.7 gallons of bubble solution
Skills:
Visual tracking skills
Encourages gross motor movement, balance, and muscle tone development
Promotes hand-eye and foot-eye coordination
Promotes body and spatial awareness
Sensory processing skills
Looking for a fun product to promote coordination, balance, and more?  The Spooner Freestyle Balance Board is a fun introductory balance board.  While Spooner offers a couple of different boards, they recommend for children under 4 feet to use the Freestyle model.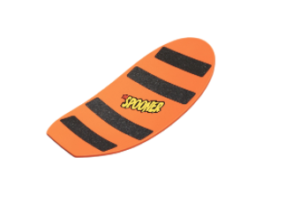 Features:
Freestyle Board is ideal for children under 4 feet (around 3-8 years of age)

Slightly shorter and lighter than the Pro Model, which makes it more manageable for smaller riders.

Centered spoon shape allows for easy balancing, rocking, twisting, walking, and spinning
Dimensions: 22.5″ x 11.25″
Weighs: 2.5 pounds
"Safest balance board on the market. Safety gear is always a good call!"
Skills:
Promotes coordination and balance
Can help increase core and leg strength and endurance
Improves gross motor skills
Looking for a simple catch and toss game?  Check out the Jabbit Set!  The Jabbit Set is a new twist and features an all-in-one catcher and launcher.  Simply flick your wrist to throw the ball and jab the ball to catch!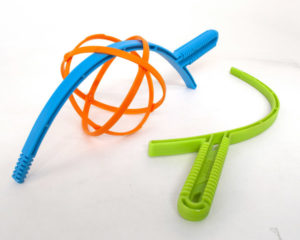 Features:
Includes 2 Jabbit Throwers and 1 Ball
Unique design features a launcher/thrower-in one and open-framed sphere ball
Underhand or overhand throws
Can be used as a training tool for lacrosse
Made of durable and flexible plastic
Skills:
Improve hand-eye coordination
Work on focus and attention skills
Can facilitate social skills and good sportsmanship in children of all ages
Encourages both fine and gross motor skills
Yep, you read that right.  Good ole fashioned chalk is a fun way to entertain children in the great outdoors!  This particular set of sidewalk chalk is especially ideal for kiddos with special needs because of its anti-roll design.  The anti-roll design prevents it from rolling down driveways or other inclined surfaces, thus ensuring children stay put.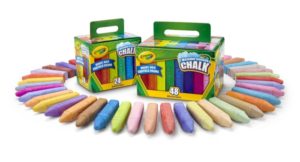 Features:
72 piece chalk in 48 bold, vibrant Crayola colors
For outdoor sidewalk and driveway art
Chalk washes off with water
For children ages 4 and up
Skills:
Encourages creativity and imaginative play
Drawing and handwriting work on fine motor skills
Gross motor skills (e.g. balance, coordination, etc.) can be improved if children draw hopscotch or create other game(s) with chalk
Turn-taking, sharing and other socialization skills can be practiced using chalk too!
So what are you waiting for?!  Let's go outside!