Looking for a fun sensory game your child can play independently?  The Diggin Wobble Deck's design improves muscles and minds.  It features three exciting play options for children five years of age and older.
In sum, the Diggin Wobble Deck combines the basic rules of Simon Says with the physical challenge of balance boards.  The three gameplay options are:
Memory Match: the board will call out an increasing number of commands the child will need to remember and press in correct order.
Speed Play: this mode is all about keeping up with the board's commands.  They come out faster and faster as the game progresses.
Freestyle: Freestyle allows children to explore the sounds and colors of the Wobble Deck by making sounds associated with the instruments printed on each colored edge as the child moves the deck around.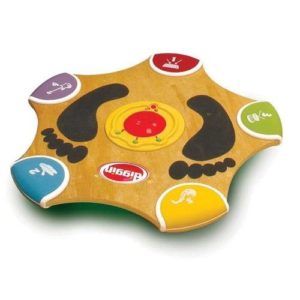 Features of Diggin Wobble Deck:
Difficulty levels are adjustable.  For example:

Level one: the board will only call out colors
Level two: the board calls out colors and numbers
Hardest setting ("level 3"): mixes colors, numbers, and sounds

Board can be played indoors and outdoors
Improves sound and color recognition
Tests child's reflexes and reactions
Check it out on Amazon to learn more!