Some individuals with progressive muscle weakness need just a little assistance to help them stand.  The Freedom Chair by Stand Aid of Iowa offers just that!  While many recliner chairs are designed to help users stand by pushing them forward, the Freedom Chair helps by lifting the user up!
Stand Aid of Iowa has been manufacturing "quality, durable standing frames, and medical equipment for more than 25 years."  The company's mission is to design products that enable individuals to lead a more active, healthy, and productive lifestyle.  In addition to the Freedom Chair, they also offer a Power Toilet Aid and an assortment of Standing Frames.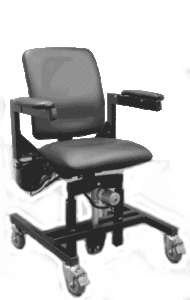 Their Freedom Chair is essentially a chair lift that allows users to comfortably move from the sitting position to the standing position.  It is ideal for use in the office, home, or any other environments with a level floor surface.
Features of the Freedom Chair:
Uses a rechargeable 12-volt battery with onboard charger and cord reel
Adjustable seat back for maximum back and lumbar support
Padded armrests flip up and out of the way

Armrests are adjustable up and down by 2 inches and in/out (width) by 3 inches

Limited warranty
Chair seat raises from 23 inches to 31 inches from floor
Swivels 90º to the left or right
Supports up to 300 pounds
Check out this YouTube video to see the chair in action!
Click here to learn more about the Freedom Chair.