When I was at a dinner party a couple weekends ago, I got to talking with a friend.  She said she was staying with her nephews (who are 3 and 5 years old, I think) a little while back.  She heard them inside the room whispering, eager to wake her up.  It was just before 7 in the morning and one said, "Shhh!  We can't wake her yet!  The alarm clock isn't green yet!"  The alarm clock soon glowed green once it was 7 a.m. They said, "Okay!  It's green!  We can wake her now!"
During this conversation, I was thinking, "Oh my goodness, they sound precious!"  But afterward, I became fixated on the idea of this glowing alarm clock.  I was then inspired to write a blog about different types of alarm clocks available for children and adults alike who may not be able to use traditional alarm clocks.
The following list consists of alarm clocks that may benefit all individuals, but especially those:
With sensory sensitivities (e.g. loud noises)
Who can't tell time
Who are deaf and/or visually impaired
With poor dexterity
5 Alarm Clocks for Individuals with Special Needs:
"The best part of waking up is Folgers in your cup!"  Remember that fun little jingle from the popular coffee manufacturer?  Their commercials always featured someone waking up peacefully to the smell of coffee.  The Olfactory Alarm Clock from Sensorwake encourages individuals to get out of bed in a similar way.  The Olfactory Alarm Clock wakes individuals up with their favorite scent (e.g. espresso, peppermint, grass, etc.).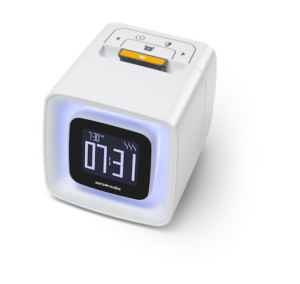 Features:
The smell starts off gentle, then gradually increases in 2 minutes
Upon ordering, users can select their preferred scent capsules.  Scents include:

Seaside
Espresso
Chocolate
Croissant
Grass
French Toast
Peppermint

Each capsule's scent lasts for 30 days.  Click here to learn more!
Who's it for?
This is ideal for individuals who are sensitive to sounds or who respond better to smells than sounds.
The SmartShaker 2 is yet another option for those seeking an alternative alarm clock.  It is a travel-size, customizable alarm that can wake even the deepest of sleepers.  In sum, it is a thin pod that you place under your pillow.  Settings are completely customizable via the SmartShaker 2 app.  Once the settings are all set, simply place the SmartShaker 2 under your pillow and the alarm will wake you.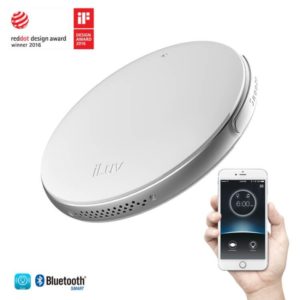 Features:
Vibration under the pillow is guaranteed to wake users, without disturbing their partners:

3 levels of vibration to choose from: earthquake, strong, normal

Choose from the following built-in ringtones, with adjustable volumes:

Rooster
Doorbell
Cuckoo
Chimes
Air horn
Birds
Alarm

The small size of the SmartShaker 2 allows users to take the alarm anywhere they go
Ability to set up to 10 alarms with the easy-to-use app
Who's it for?
The SmartShaker 2 is an ideal solution for those with visual or hearing impairments.  It is also ideal for children who respond better to tactile or vestibular stimuli rather than sound.
The Moshi Voice Interactive Talking Alarm Clock looks and sounds like a traditional alarm clock, but can be fully operated by voice.  With Moshi, users can simply state the time they'd like to wake up, and the alarm will program everything – hands-free!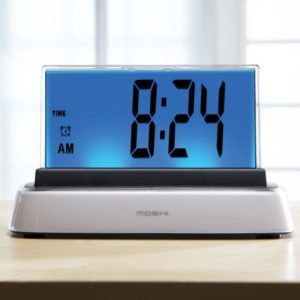 Features:
Wake up the alarm clock by saying, "Hello Moshi" then the clock will state, "Command Please."  Now the clock can be programmed by user's voice
Responds to 12 voice-activated commands
Select from 3 different alarm sounds:
Calming sleep sound of your choice can be played for five minutes:
Who's it for?
The Moshi Voice Interactive Alarm Clock is ideal for those with visual impairments and/or poor dexterity who can't operate the small buttons on a traditional clock.
OK to Wake! is the clock my friend was telling me her nephews have.  OK to Wake! was designed by parents on a mission to keep their child in bed until a decent hour.  Because young children (toddlers and older) may not understand time yet, this alarm clock will glow green when it's ready to wake up.  If children wake up before it turns green, they know to go back to sleep or play quietly in their room until "Green means go!"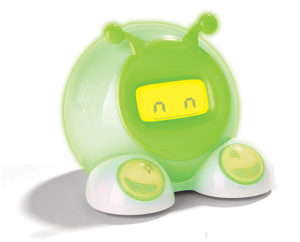 Features:
Flexible bedside alarm clock, nap timer, and dual-color nightlight
Comes with 2 fun interchangeable faceplates and wacky animations that give the clock a fun personality
Designed to grow with your child:

Ages 3-5: "Teach me when it's "OK to Wake!"
Ages 5+: "Teach me to use an alarm clock!"

Easily programmable by parents:

Hidden control panel makes it easy for parents to adjust the nightlight, green light, brightness, and more
Who's it for?
OK to Wake! is an ideal alarm clock for children who can't yet tell time and/or who have trouble staying in bed.
Some of my fondest memories include nights at summer camp when we'd sleep outside.  I remember falling asleep stargazing and waking up to the golden sunrise.  It was quiet, gradual, and refreshing.  To this day, if I had to choose, waking up with the morning sun is probably my favorite way.
I am not a morning person by any means, and loud noises (e.g. traditional alarms) only trigger my hatred for mornings.  However, mornings are a little easier with the sun shining through my window.  Philips understands this and thus they created the Wake-up Light with Sunrise Simulation.  The Sunrise Simulation was inspired by nature's sunrise and wakes users in a more natural way.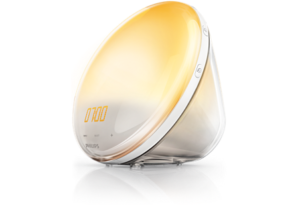 Features:
The sunrise light simulation gradually increases within 30 minutes until your room is filled with bright yellow light

This process of increasing light mirroring a sunrise stimulates your body to wake up naturally, leaving you more refreshed

You can select FM radio or choose from 5 different natural sounds to wake up to:

Gentle Piano
Seaside Sounds
Zen Garden
Bird Song
Birds in the Forest

The sound gradually increases with the light to your selected volume level
The display automatically dims itself when the bedroom gets dark
Sunset Simulation prepares body to fall asleep by gradually decreasing light and sound to your set duration
Simply tap the device to snooze
Who's it for?
The Sunrise Simulation clock is ideal for individuals who may get upset by loud noises.  It's also ideal for individuals who react better to visual cues, as well as those who are deaf or hard of hearing.