Imagine being able to control your phone, computer, and so much more entirely touch-free.  Now with the Myo Gesture Control Armband, you can!  The Myo armband reads the muscle activity in the wearer's forearm and gives them touch-free control of technology using only hand gestures and motion.
The Myo armband's intuitive technology detects six distinct hand gestures (listed below) that allow users to wirelessly control apps and devices, like music, games, and presentation slides.  It is especially beneficial for individuals with poor motor skills or other special needs who can't use keyboard mice.  With the armband, users can:
Present:

Wirelessly control their presentation slides by simply flicking their wrist.

Connect:

Control their digital world from a distance using only gestures
Browse the web, videos, applications, and more.

Play: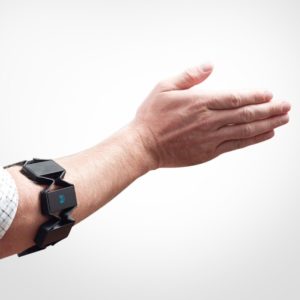 Features of the Myo Gesture Control Armband:
One-size-fits-all device for individuals ages 12 and older
Myo Market offers over 100 applications such as:

Spotify
Myo Music
Fruit Ninja
Tetris
Ultimate Mouse Control
PowerPoint
And much more!

Distinct gestures include:

Double tap
Wave left
Wave right
Spread fingers
Make fist
Rotate

Compatible devices:

Windows 7 and up
OS X 10.9 and above
iPad 3rd and 4th generation, iPad Air, iPad Air 2, iPhone 4s, 5, 5c, 5s, 6, 6 Plus, iPod Touch 5th generation, iPad Mini 3
Android 4.3 and up

The package comes with:

Myo Armband
Standard Micro-USB Cable
Bluetooth Adapter for Mac and Windows PC connection
Myo Sizing Clips
Click here for more information!