A couple weeks ago, I wrote about the One, Two, Tie My Shoe Kit.  This Kit offers a fun, simple way to teach children how to tie their shoes.  But what comes before shoes?  Socks, of course!  If your child can't pull on their own socks or stand the toe seam found in traditional socks, check out what EZ Sox has to offer.
The "I Can Do It" Socks by EZ Sox are the first training socks available for children.  As I stated in the shoe tying blog, it's important for children to learn to dress themselves.  Doing so encourages self-confidence, independence, and much more!  However, learning to put one's own socks on can be just as challenging as tying shoes.  This is where these socks come in!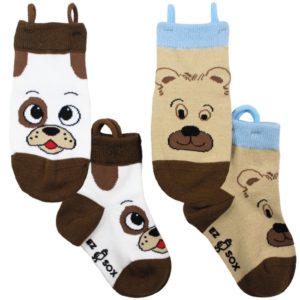 EZ Sox's philosophy is as follows:
EZ Sox are fun learning socks for children and a helpful teaching tool for parents.  Our goal is that every little person can put their socks on with ease, each and every time.
Features of EZ Sox:
Easy pull-up loops give little fingers a better grip to pull up socks
Seamless toes for comfort
Non-skid grippers on bottom of socks to keep children from sliding on slippery surfaces
Animal/character print is on top so children know when they are on correctly
Made of 80% cotton, 17% polyester, 3% spandex
Available in multiple sizes:

Small for ages 2-3 years
Medium for ages 3-5 years
Large for ages 6-9 years
Visit Amazon or EZ Sox's website for more information.