Many persons with autism, ADHD, sensory challenges, developmental delays, and more crave deep pressure to calm down.  Bod Pods Therapy Socks from Bip Gear are translucent, tubular sleeves made from stretchy spandex material that provide just that!
When the individual is inside of the Bod Pod, the Pod pushes back against the user's movement.  This provides kinesthetic and visual feedback with each movement.  This creates a calming sensation for users while working on their coordination and spatial positioning.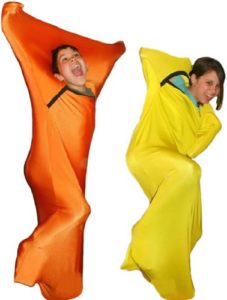 If you're already familiar with body socks, let's continue by stating what sets Bod Pods Therapy Socks apart from the rest.  Unlike many body socks available on the market, the Bod Pods Therapy Socks are entirely velcro-free!  Velcro can upset many individuals with sensory sensitivities, so this feature is a major bonus.  To use the sock, you simply slide into the opening and pull it up over your body.  The overlap seam will keep the user snugly inside the sock.
Features of Bod Pods Therapy Socks:
Material is 80/20 nylon spandex
Made with high stretch nylon thread
Overlap seam is used in lieu of velcro to keep user snug inside the body sock
Available in a variety of sizes.  The company recommends you measure height before ordering, and never order a size larger than the user for best results.
Sizes available, measured in inches:

Tiny: 30″-36″
Extra Small: 36″-42″
Small: 42″-48″
Medium: 48″-54″
Large: 54″-60″
Extra Large: 60″-66″
Huge: 66″-72″

Available in multiple colors:

Apple Green
Cherry Red
Bubblegum Pink
Royal Blue
Tangerine