Enabling Devices offers a catalog of products for individuals with all disabilities.  They offer a selection of switch-activated toys, one of them being the Seek-N-Find Switch Toy.
The Seek-N-Find Switch Toy is a more accessible version of the popular Find It Game.  Find It Games have been around for years and have been noted to "promote focus and concentration through play."  In sum, they are portable, contained scavenger hunt games.  Players simply move the toy around to find hidden objects inside the tube!
The Seek-N-Find Switch Toy offers the same benefits as Find It, plus much more.  Developers redesigned the popular toy by making the cylinder motorized and the objects larger.  The motorized cylinder allows for children to use a capability switch for search activation.  Additionally, children can turn the cylinder manually if they're capable.
Developmental Benefits of Seek-N-Find Switch Toy:
Promotes focus and concentration for children with ADHD, autism, and more
Encourages reading and writing skills if parent/teacher has list of objects children can find
Helps develop language skills if children discuss what they're looking for, what they've found, etc.
And much more!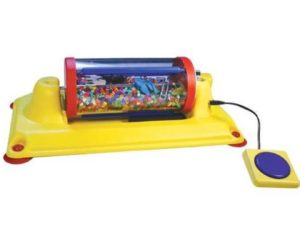 Features of Seek-N-Find Switch Toy:
Children will have fun looking for:

Animals
Dice
Stars
And much more – all hidden between colorful beads

Requires 4 alkaline AA batteries (not included)

You cannot use rechargeable batteries or any other type of batteries because they supply lower voltage and unit will not perform properly

Drum turns with or without switch connected (switch not included)
Using a capability switch makes the unit play fun music
Simply plug in the switch to the jack, which is located on side of the unit
To add or remove objects from drum:

Simply lift up and tip on the motor side of the drum
Slide the drum to the side, just enough to pull rod on the opposite side of base
Slide rod out of the drum and unscrew the small Phillips Head screw from access panel door
Next, slide the door to one side
Add and remove desired objects, then slide door back in place and replace screw

Can be wiped clean with any mild household multi-purpose cleaner
Measures: 14.5 inches L x 8 inches W x 4.5 inches H
Choking hazard: not recommended for children under 3 years of age