Looking for a portable multi-sensory experience?  Check out the Discovery Tunnel from Enabling Devices!  The Tunnel provides auditory, visual, and tactile stimulation – all in a small package.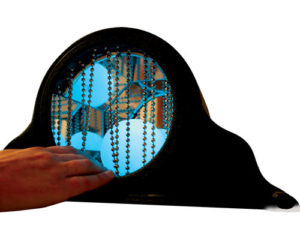 The Tunnel simply rests on a level surface.  Then the user slides his or her hand through the beaded curtain to activate the multi-sensory stimulation.  While the user's hand is inside, the white ball inside the tunnel will alternate between calming colors.  The user will also feel a slight vibration and hear "one of six high-quality mood-setting music pieces."
Features of Discovery Tunnel:
Provides hours of fun and relaxation for users of all ages and abilities
Works with an external capability switch (not included)
Measures 14″L x 7.5″W x 7.5″H
Requires 10 AA alkaline batteries

Do not use rechargeable batteries or any other type of batteries because they supply lower voltage and the unit will not perform properly

Volume is adjustable
If the user leaves his or her hand inside the tunnel for more than 20 seconds, the music will change

The music will stop at the end of the piece if you pull your hand out
Next song will play if you insert your hand again

Octagon shaped mirrors inside do not only show dazzling lights, they also show the beads, user's hand, and face
Click here to learn more about the Discovery Tunnel.