Many individuals still enjoy reading books and other text on good old fashioned paper.  However, poor lighting can cause eye strain, fatigue, and light sensitivity, making reading a painful task.  The Eyestrain Reducing Variable Color LED Floor Lamp from Hammacher Schlemmer is a potential solution to this problem!
This LED Floor Lamp features adjustable color "temperature" which helps reduce eye fatigue and light sensitivity.  The included color dimmer allows users to adjust the light's color balance from a soft warm glow (comparable to an incandescent bulb) to a cool white illumination (comparable to natural daylight).  "Spanning the light color spectrum from 2,700 to 6,400 Kelvins, the bulbs integrated warm white and cool white LEDs provide enhanced contrast and reduced eye strain while reading, crafting, or lounging."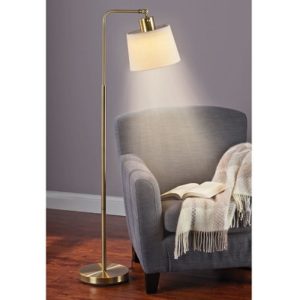 The second built-in knob allows users to adjust the brightness of the lamp.  In other words, the lamp is fully adjustable to each individual's unique needs!
Features of Eyestrain Reducing Variable Color LED Floor Lamp:
Two built-in dimmers/knobs:

One adjusts the color "temperature"
Second adjusts the lamp's brightness

Energy-efficient bulb lasts up to 10,000 hours
Adjustable arm and fabric lamp shade
AC powered
Height: 56 inches
Weight: 16.5 pounds
Diameter base: 11 inches
Brass finish for modern look