I first introduced Liftware back in 2014.  If you're unfamiliar with it, it is an eating utensil that cancels out tremors making it easier to eat.  The same company has recently released an all-new product coined Liftware Level.
The original Liftware (now called "Liftware Steady") is an electronic stabilizing handle with an assortment of attachments.  It is primarily designed for those with hand tremors and reduces utensil shakes by 70% less than the users' hands.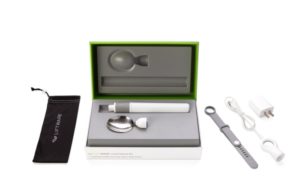 The new Liftware Level helps users hold a utensil at a necessary angle.  It's designed to help people with limited hand or arm mobility, which may be related to:
Cerebral palsy
Spinal cord injury
Huntington's disease
Muscular dystrophy
Post-stroke deficits
And more
The Liftware Level uses electronic motion-stabilizing technology that keeps the utensil level, regardless of how one's arm twists, bends, or moves.
How does the Liftware Level work?
"The leveling handle contains sensors that detect changes from the intended movement of the hand in 3 dimensions.  To level the utensil, the computer directs two motors in the handle to bend the flexible gray joint, keeping the attachment at the right angle."
Features of Liftware Level:
Easy to use:

Simply connect the utensil attachment to the leveling handle to turn it on automatically
Disconnect the attachment to turn off and plug handle into charger to recharge

Level Starter Kit includes:

Travel pouch
Soup spoon attachment
Leveling handle
Strap
Charger

Users can also order additional attachments separately (e.g. Fork, Soup Spoon)
Click here to learn more about the different Liftware products.