Prepping vegetables, fruits, or other foods is no easy task, but it can be especially challenging for individuals with poor motor skills or arthritis.  However, it is a little easier if you have the right tools. OXO offers several products designed to make kitchen prep a little easier.
According to their website, OXO was founded on the philosophy of Universal Design.  This means they design their products to be usable by as many people as possible.  Their award-winning products are even on display in museums worldwide!
To maintain their focus on Universal Design, employees at OXO go around collecting lost gloves around New York City and the world.  They put these gloves on display as a constant reminder of all the different hands their products need to comfortably fit.
OXO offers over 1,000 products covering many areas of the home.  For the purpose of today's blog, however, I'd like to focus on the OXO Good Grips line.  All of the OXO Good Grips products feature a signature non-slip, comfortable handle that won't slip even if user's hands are wet.
5 OXO Good Grips Products:
The Swivel Peeler features a sharp, hardened stainless steel blade.  The blade glides through the toughest fruit and vegetable skins while leaving all the good stuff intact.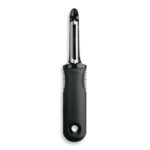 Features:
Sharp, hardened stainless steel blade easily peels potatoes, carrots, and more
Removes just the peel without digging into fruit beneath
Soft, comfortable, non-slip handle cushions hand during repetitive peeling motion
Built-in potato eyer
Removable cover protects blade
Dishwasher safe
The Y Peeler is named after its shape.  It is an alternative peeler to the swivel one, though very similar.  It features a sharp, stainless steel blade that glides through the toughest of vegetable skins.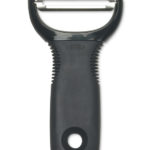 Features:
Sharp, stainless steel blade glides effortlessly through fruit and vegetables
Soft, comfortable handle cushions your hand while peeling

Will not slip even if your hands are wet

Dishwasher safe
The Box Grater features 4 stainless steel surfaces and a convenient box beneath that catches everything.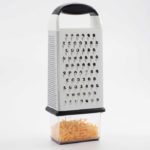 Features:
4 stainless steel surfaces:

2 wide ones for coarse and medium grating
2 slimmer ones for fine grating and slicing

Convenient container attaches to the grater to catch and store all grated ingredients.  The container also features:

Non-slip base
Measurement markings
Lid to catch and store freshly grated ingredients

Slim design fits easily into drawers
Dishwasher safe
The Soft-Handled Can Opener features large, cushioned handles and an oversized knob.  The large knob turns effortlessly, making it a lot easier to open up cans.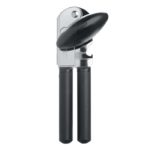 Features:
Large, comfortable handles take the pain out of opening cans
Sharp cutting wheel is made of durable stainless steel
Built-in bottle opener
Soft, non-slip grip
Not dishwasher safe!
If squeezing the handles while turning the knob is too challenging, OXO Good Grips also offers a Snap-Lock Can Opener.  This can opener locks directly onto cans so you don't have to squeeze while turning!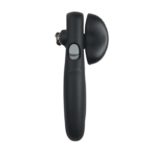 Features:
Simple, comfortable design
The Snap-Lock will secure directly to the can so you can turn the knob without gripping tightly
Simply press the lock open with your thumb to release the can
Also view: Locking Can Opener with Lid Catch
Click here to check out what else OXO has to offer!