T-handle Rocker Knife
I was discussing kitchen prep a few weeks ago and how cutting meat, veggies, pasta, and other foods can be extremely challenging for persons with limited strength and dexterity.  The T-handle Rocker Easy Cut Knife is an adaptive solution for cutting food.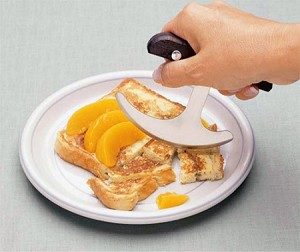 The Rocker Knife is easy-to-use and cuts food with a simple rocking motion.  The T-handle Rocker Easy Cut Knife provides a mechanical advantage for cutting food to help people with limited strength.  "By applying pressure from directly about the object to be cut, less strength and dexterity are needed by the user to cut the food."
How to use the knife:
Simply apply gentle pressure to the handle with your entire hand then gently rock the blade back and forth.
Features of T-handle Rocker Easy Cut Knife:
Utilizes a rocking motion to cut food
Ergonomic, grip-shaped handle comfortably fits in most hands
Handle is available in wood or plastic
Optional carrying case is available for safely transporting knife
Stainless steel blade measures 4.5 inches (11 centimeters)
The knife is entirely dishwasher safe
Waterproof Cutting Board
Now before you start cutting food, you'll need a surface to do so on.  RehabMart offers the Waterproof Cutting Board, which can make cutting your favorite foods even easier.
The polyethylene Waterproof Cutting Board features aluminum spikes to hold food while cutting.  It also has rounded food guards to keep the food on the board.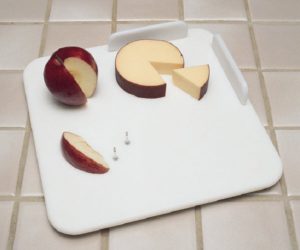 Features of Waterproof Cutting Board:
Made out of durable, waterproof polyethylene
Aluminum spikes help hold food while cutting
Rounded edges (or food guards) help keep food on the board

Because the edges are rounded, they are easier to clean

Four rubber suction feet anchor the board securely to any surface
Available in small and large sizes:

Small: 7.5 inches, weighs 1.25 pounds
Large: 11 inches, weighs 2.25 pounds

Dishwasher safe