Let's Expand Vocabulary is an app for children with speech and language difficulties.  It is also tailored to support children learning English as a second language.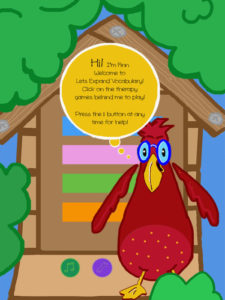 The app uses 4 exciting mini-games to encourage the development of specific strategies in children "who find it difficult to access the wide range of vocabulary they have stored in their heads."  This "language difficulty" can impact one's fluency, confidence, and overall academic skills.
The 4 mini-activities are:
Odd One Out
Matching Pairs
Categorization
Add Another One
The team behind the app is made up of a speech-language therapist, a graphic designer, web designer, and software developer.  According to their website, their mission is:
We are passionate about keeping the games smart, simple, colourful and fun.  We want to engage children and parents in vocabulary led play.
Let's Expand Vocabulary Features:
Works on developing and practicing retrieval skills to benefit one's overall literacy
Built-in parental controls allow parents to:

Adjust the difficulty of activities
Add downloadable packs as their child progresses
Monitor their child's progress

Music can be muted
Finn the Bird explains all the games
Rewards are given after 5 correct answers
Choose between different voices:

American
Northern Irish
British
Voice of a Child
Click here to learn more about Let's Expand Vocabulary!