Here's one thing we all have in common: we all need to drink a lot of water.  Proper hydration can reduce fatigue and headaches while boosting metabolism, energy, and more.  Did you know 75% of people are chronically dehydrated!?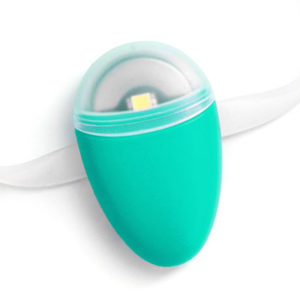 This is where Ulla, the smart hydration gadget, comes in.
The company states on their website, "Our aim was to make Ulla incredibly simple to use, with end-users and their hopes and habits foremost in mind.  As a result, everyone – from the technically unengaged to notification-swamped gadget enthusiasts – gets the full benefit of our innovative product…"
For many, they simply forget to drink water throughout their busy day.  Ulla is a smart hydration reminder that will blink to remind you to drink water.
How it works:
Ulla attaches to any bottle or glass of any shape, size, and material.
Daylight sensors automatically activate Ulla in the morning and turn it off at night.
It follows the optimal hydration interval so you hydrate at just the right time throughout the day (at least once an hour).
Built-in smart sensors detect whenever you drink your water.
It'll glow to alert you if you forget to drink water at designated time(s).
Features of Ulla:
Consists of a high precision accelerometer, ambient sensor, a microcontroller, and power management circuit in a compact gadget
Will remind you to hydrate every 30-40 minutes
Blinking pattern is designed to stimulate peripheral sight so users can see it out of the corner of their eye
The unit does not make any noise; simply notifies users if they forget to drink by blinking
It senses whenever you take a drink through its detection algorithm and built-in movement sensor
Battery lasts about 6 months

User can replace battery after it goes bad; uses CR2032 coin-cell type battery

Available in 9 vibrant designs