Wouldn't it be awesome to transform your wheelchair's joystick into a mouse?  By installing the BJOY Ring you can!  The BJOY Ring Kit connects directly to your joystick so you can operate your cursor-controlled computer, tablet, or smartphone.
According to EnableMart, "The wireless ring is connected to a transmitter paired to the receiver, which is plugged into the device you'd like to control."  The transmitter is able to pair with up to 4 receivers.
The kit includes free downloadable software to customize and set key functions.  The software allows users to:
Adjust the speed, sensitivity, acceleration, and audio feedback of the joystick to user's needs
Orientate the device easily so it can adjust to the user's position

Works with up to 45º inclination

Change the function assigned to each button:

Left click, right click, drag & drop, double click, or nothing

Activate the dwell click function for the left click (AutoClick)
And more!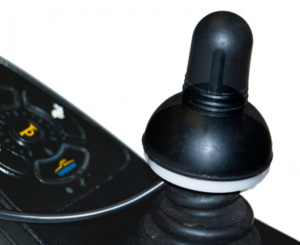 Features of BJOY Ring Kit:
Easy to install:

Take the tip off of the wheelchair joystick
Slide the Ring onto the joystick post
Turn the screw on the BJOY Ring and affix it to the post
Place protection cap on ring
Replace wheelchair joystick tip
Install the BJOY software on Windows PC to calibrate the device

Does not interfere with wheelchair's electronics
Can be configured on startup and all parameters are saved to device
Ring adjusts to the user's position and movements
Clicking can be done with external switches or dwell click (requires software)
Available either wireless or wired