Did you know braille books are nearly a square foot in size, and the average novel spans several volumes?  To make books more accessible and portable, Perkins Library introduced the Orbit Reader 20 earlier this month.  The Orbit Reader 20 is a brand new, refreshable braille display that makes books readily available like a Kindle.
At the launch, the staff displayed a complete braille version of Leo Tolstoy's War and Peace, which takes up 14 volumes and weighs a combined 74.2 pounds!  The Orbit Reader weighs less than one pound and can hold 57.7 metric tons of hard copy braille.  To put that into perspective, the reader can hold 1,719 copies of War and Peace.  
As a standalone device, users can read braille content stored on an SD card that plugs directly into the device.  Users can load the SD card in two ways:
Libraries copy content onto card, and/or
Users prepare content on computer and transfer to card
Additionally, users can connect the reader to a computer or tablet that uses a screen reader to:
Use apps like Kindle, Adobe Digital Editions, or iBooks
Employ any accessible technology for browsing, utilities, and education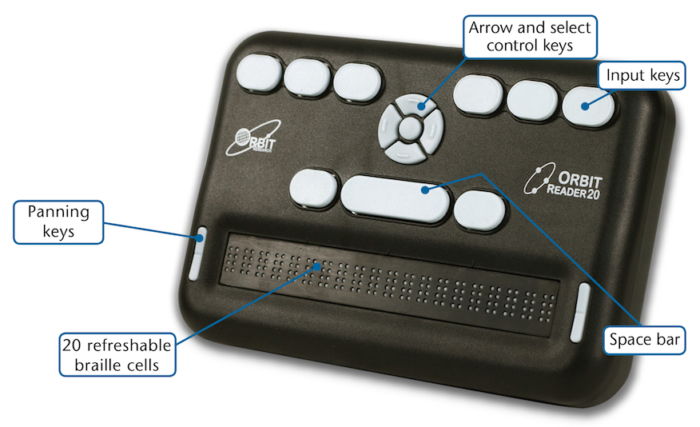 Orbit Reader 20 Features:
Refreshable display of 20 braille cells with pins that represent any six- or eight-dot braille code
Reads the contents of files on an SD card for standalone operation
Connects to computers and portable devices via USB or Bluetooth for use with a screen reader
Eight braille input keys
Five-way arrow and select control keys
Two panning control bars
Includes simple note-taking capability
Rechargeable batteries
Bluetooth radio
The price of the Orbit Reader 20 will be "dramatically lower" than similar devices on the market today.  It will be available for purchase soon through American Printing House for the Blind, Inc.
Click here to learn more.