While attending a wedding this weekend, I met a gentleman who had a stroke which left him unable to walk very well.  He rented a scooter while he was in town to help him get around easier.  However, the scooter was unable to be lifted onto the shuttle bus, leaving him unable to take the scooter with him to the weekend's festivities.  All of this had me wondering if there are any scooters that are more portable.  This is where the ZooMe Auto-Flex Folding Travel Scooter comes in.
The ZooMe Auto-Flex Folding Travel Scooter is a lightweight scooter with an airline compatible battery.  In addition to being super lightweight (55 pounds), the scooter reportedly auto-folds and unfolds itself within 15 seconds!  Users simply have to press a button on the given key fob and the scooter will fold or unfold automatically.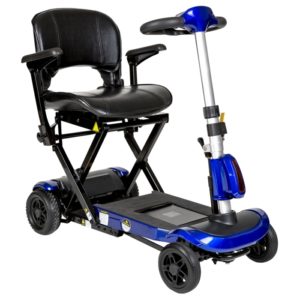 ZooMe Auto-Flex Folding Travel Scooter Features:
Lightweight and portable: weighs only 55 pounds
Holds up to 300 pounds
Fully electronic folding and unfolding in 15 seconds or less with wireless key fob
Aluminum alloy frame is lightweight for superior portability
Airline-safe lithium battery
High-gloss shrouds for a protective finish
Easy throttle control
Auto-folding seat with padded, adjustable armrests
Flat-free, non-marking tires for worry-free travel
Secondary manual-release levers and toggle switch for folding/unfolding
Anti-tip wheels for additional safety
Comes with 2 ignition keys and 1 key fob
Contact your local provider to learn more information.  If you're unsure who your local representative is, use the search tool found here.
Click here to learn more about the ZooMe Travel Scooter.