We've covered so many CCTVs and other assistive technologies to help individuals with visual impairments over the years.  A majority of these video magnifiers are bulky, while others are compact, handheld devices.  Now there is the most portable solution yet: introducing Jordy, the wearable video magnifier!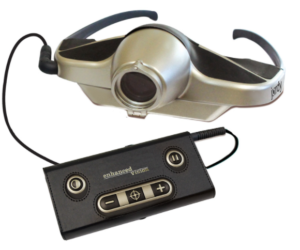 Jordy is a battery-operated, full-color portable system that can be worn like a pair of glasses to see near, far, and everything in between.  It is an ideal solution for an active lifestyle as it allows users to read, write, and see in any environment.
Jordy can help individuals with low vision:
Read books, mail, and other printed text
Watch movies
Paint
Play games
Prepare meals
And so much more
The device can transform into a fully functioning HD desktop video magnifier if used with the optional 24″ monitor docking stand.  (NOTE: I spoke with a representative from Enhanced Vision and they informed me the monitor will not be available for another month or so.)
Jordy Features:
HD autofocus camera for distance, intermediate, and near viewing
Adjustable magnification:

Magnification range varies depending on how close the wearer is to the target
"However, we can say that at 6.5 feet away, the magnification is equivalent to 30x"

Camera: 720p HD – 60 FPS
Physical dimensions:

Headset: Length = 9¾", width = 7¼", height = 2 5/8″
Large console: Length = 8″, width = 2 7/8″, height = 1 3/8″
Small console: Length = 8″, width = 2 7/8″, height = 1″

Two available battery options:

4-hour battery pack with carrying case = 12.9oz
8-hour battery pack with carrying case = 1lb and 1.5oz

Color select, locator, freeze and focus lock functions
Adjustable top strap and nose piece for optimum comfort
HDMI input for TV viewing with brightness and volume control
2-year warranty
Click here to learn more about Jordy and other products to benefit individuals with low vision.
You can view Jordy's product manual here.