Intro to Letters by Montessorium is an app that teaches children how to trace, read, write, and record letter sounds, names, and phonograms in English.  The app is based on the proven Montessori methodology.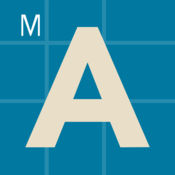 The Montessori Method was developed by Maria Montessori who was a scientist and educator.  She discovered that because children are innately curious, they don't need to be forced to learn.  The method is further described as:
"With these insights, Maria Montessori created a unique approach to education, one that concentrates on the specific developmental needs of the child.  There isn't one way to learn, and more than there is one curriculum for everyone.  Montessori believed that everyone learns differently, and at their own pace.  The Montessori method has successfully been practiced for over a century."
While practicing on Intro to Letters, children will learn:
Basic foundations of language
To read, write, and understand English letters from A-Z
Lowercase letters and their sounds (phonics)
Capital letters – names, writing, and pronunciation
Phonograms – writing and pronunciation
Consonants and vowels
Fine motor skills
The app includes the following activities:
Letter sounds (lowercase letters):

First activity places an emphasis on phonetics instead of letter sounds
Children will learn the sounds of the letters through a series of guided, interactive exercises

Phonograms:

Similar to the letter sounds, children will work through the sounds of phonograms and unite them with their symbols

Flashcards:

Connect the sounds of the lowercase letters with their uppercase counterparts

Letter names (capital letters):

The objective of this activity is to acquire a knowledge of the names and symbols of the capital letters

Soundcards:

A special recording section to help children learn sounds, phonograms, and names

Practice mode:

This section allows children to practice specific letters or phonograms
A new toggle feature allows the user to isolate their tracing path
The app is available on both Android and iOS devices.  Click here to learn more.