Visual stimulation is a great way to get children with autism, ADHD, and more to relax.  Ultraviolet illumination is one source of this stimulation that allows viewers to experience color and light in a unique way.  The Cozy Cave is a pop-up structure that blocks any external light making it a great way to view UV light.
According to Special Needs Toys, "It is widely recognized that 'seeing', combined with additional sensory stimulation, is best for effective learning.  Seeing items illuminated by UV provides a sense of wonder and encourages additional engagement using the sense of touch."
The Cozy Cave is ideal for sensory-seeking individuals, as well as children simply needing a peaceful time out.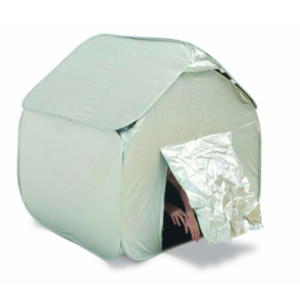 Features of Cozy Cave:
Lightweight and portable
Double nylon skin completely blocks out any external light allowing the viewer to focus on the UV illumination
Removable roof so parents or caregivers can peek inside or gain access if necessary
Easily folds away for space-saving storage
CE-certified
Check it out on Special Needs Toys to learn more.