Smartwatches are an ideal solution if you're not ready to give your child a smartphone, but want to stay connected with them.  There are so many smartwatches designed specifically for children that feature GPS tracking and so much more.  Keep on reading to learn which wearable may work best for you and your child's needs.
3 Smartwatches for Children:
The following list is comprised of smartwatches suitable for children a variety of ages.  All of the smartwatches in this list are made with children in mind and are thus highly durable.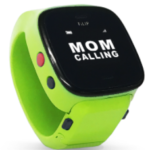 Ideal for children under the age of 10 
The FiLIP is a wearable phone and GPS tracker for children.  It was designed to give parents peace of mind while providing children the freedom they need.  The FiLIP smartwatch keeps families connected without the need to buy children a smartphone.
Features:
With the FiLIP app, you get to choose five numbers that your child can call and receive calls from.  Children can simply scroll through contacts, then touch a button to make a call.
"FiLIP uses a unique blend of GPS, GSP, and WiFi to allow parents to locate their child using the most accurate location information, both indoors and out."

Parents can check the child's location on the map within the FiLIP app.

Children can initiate an emergency call by pressing and holding the Red Button for 4 seconds

Pressing and holding the Red Button triggers:

A call to the primary account holder; if there is no answer, the watch will call each of the contacts until one of them connects
A recording of the call and background noises
An immediate update of your child's location, with automatic updates every 60 seconds until the emergency is canceled

Parents can set SafeZones, a virtual radius around a location (e.g. home, school, friend's house, etc.)

Parents can set up to 5 SafeZones using the app
Once a SafeZone is set, a notification will be sent to parent's smartphone when FiLIP detects the child has either entered or exited a SafeZone

Parents can also send a short text message to their child's FiLIP when they want to communicate without calling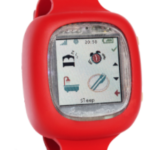 Ideal for children ages 4-9
AmbyGear is the "first kids' smartwatch that is fun and rewarding to use while providing safety and family connectivity."  It features a combination of the latest activity tracking technology and advanced nurturing algorithms to help children grow healthier and smarter.
Features:
AmbyGear encourages children to be more physically active, get more sleep, wake up on time, and more with incorporated smart activities and fitness
Parents can send messages to child's AmbyGear when they want to stay in touch; your child will also be able to respond from his/her AmbyGear by selecting a pre-configured message so there's no need to type
AmbyGear employs satellite based and land-based location services to make the GPS faster and more accurate than other solutions
This smartwatch also features SafeZones, which allows parents to establish safe area where their child's location can be monitored

Parents will receive notifications when their child enters or leaves the designated area

Built-in Smart Calendar allows you to set up reminders and alerts for your child based on their daily activities or for occasional events like you do on your smartphone calendar app
AmbyGear is both waterproof and shock resistant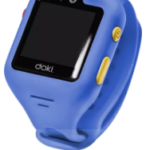 Ideal for children ages 6-12
The dokiWatch is "the world's most advanced 3G smartwatch for kids 6-12 years old."  With this smartwatch, children can lead an active childhood while parents enjoy peace of mind knowing their child is safe.
Features:
Parents can check in with their child via video call anytime and anywhere with the touch of a button
dokiWatch is able to make and receive phone calls from a preset list of contacts
Children can send and receive voice messages and receive text messages
Built-in fitness tracking includes exciting activity goals which encourage children to stay active and healthy
AlertArea is similar to SafeZones: it allows parents to preset locations (e.g. school, home, etc.)

Then parents will receive notifications when their child leaves or enters designated location