Melissa & Doug is a company that makes toys and other products that offer countless ways to play  They believe the best playthings are "often simple concepts that inspire children to come up with their own twists."  The husband and wife team has been making toys that spark imagination and curiosity since 1989.  One of these products is the School Time! Classroom Play Set.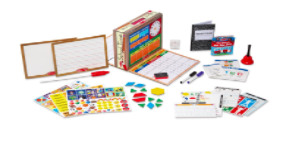 The Classroom Play Set allows children to play the roles of both the student and teacher.  It features a drop-down teacher desk on one side and a student desk on the other.  The play set includes anything your child will need to play school!
While playing with the School Time! Classroom Play Set, children will:
Practice spelling
Fill out a hall pass
Play with pattern blocks
Fill out the calendar and clock
Take a "math test"
Practice math skills
Work on communication skills
Learn how to give and follow directions
And more
Features of School Time! Classroom Play Set:
Comes with drop-down teacher desk and student desk to create classroom environment
Also includes:

150 reusable stickers
12 pattern blocks
Bell
Timer
Lesson plan guide
Storybook
2 double-sided write-on, wipe-off boards
2 dry-erase markers
9 reusable activity cards (e.g. hall pass, writing and math assignments, lunch orders, worksheets, and more)
Pointer
And more

All pieces store inside the box for portable fun
Encourages creative expression and imaginative play
Ideal for children ages 4-8 years
Click here to learn more.