Are you in the market for a new alarm clock?  Or do you have a hard time waking up in the morning?  If you answered yes to any of these questions, then check out the Sonic Bomb with Super Shaker from Sonic Alert!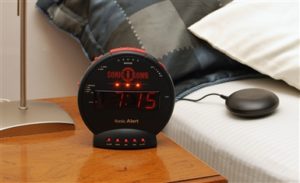 Sonic Alert is a developer "of consumer electronics that primarily focuses on developing specialized hearing solutions."  They've been developing solutions for individuals who are deaf or hard of hearing for over 40 years.
The company's Sonic Bomb with Super Shaker is ideal for individuals of all ages and abilities.  However, it may be especially ideal for individuals with hearing impairments.  The extra-loud dual alarm "is sure to rattle your windows and force your eyes open."  If that doesn't work, a pulsating alert lights the room while the Super Shaker bed vibrating unit shakes your bed.
Features of the Sonic Bomb with Super Shaker:
113db extra-loud alarm with adjustable tone and volume control
Comes with powerful 12-volt bed shaker
Built-in red flashing alert lights
Customizable snooze time (1-30 minutes)
Customizable alarm duration (1-59 minutes)
Battery backup backs the time and alarm settings up to 1 week
Green power technology uses 60% less energy
Dual-time (12 or 24 hour time formats)
5-level dimmer function
Dual alarm
One-year Sonic Alert blast-proof warranty
Click here to learn more about the Sonic Bomb with Super Shaker alarm clock!