Looking for an app to teach your child logical thinking, attentive listening, and more?  Look no further than the Sound Salad – Help Mr. Ear by Sorting Sounds app!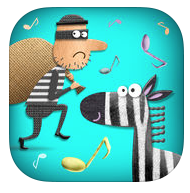 Sound Salad is a place where all objects' sounds get mixed together.  The Sound Salad – Help Mr. Ear app is a sound-object association game with interactive activities that help practice developmental skills.  The goal is to help the main character, Mr. Ear, organize all the sounds in his world.
The app features various levels of difficulty, making it suitable for children as young as 3 years of age.  Although it is designed for children of all abilities, it may be especially rewarding for children with autism who could relate to Mr. Ear not wanting sounds mixed up.
Features of Sound Salad – Help Mr. Ear:
Fun graphics and sounds encourage players to help Mr. Ear organize all the sounds in his world
There are 8 levels with 96 carefully crafted objects and sounds

Players learn to listen attentively to give each object back its proper sound

Available in many different languages:

Chinese
Dutch
English
German
Swedish
Spanish
Italian
French

3 degrees of difficulty: 2, 3, or 4 objects at a time
Easy and Advanced mode
A speed game: play against the clock with endless flow of objects and their sounds
Check out the app on iTunes to learn more.
Click here to view the developer's other apps!