Opening jars can be challenging for most, but the task can be especially difficult for individuals with arthritis, hand or arm weakness, and more.  This is where the Robo Twist Electric Jar Opener comes in handy.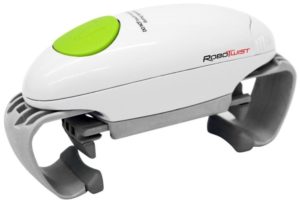 The Robo Twist is a robotic, lightweight jar opener that automatically adjusts to fit any jar size.  Here's how to use the Robo Twist:
Place the jar on a steady, flat surface (e.g. table, counter, etc.)
Set the Robo Twist on top of the jar lid
Press the large green button
Watch it unscrew the lid in seconds!
The opener locks firmly onto even the toughest of jars and lids and unscrews them effortlessly.
Robo Twist Electric Jar Opener Features:
Easy to use push button design
Ideal for individuals with limited hand strength
Weighs less than one pound
Uses very little energy
Easy to use:

Position it on the lid, press the easy-switch button, and watch it rotate and uncap
Click here to learn more about this product!