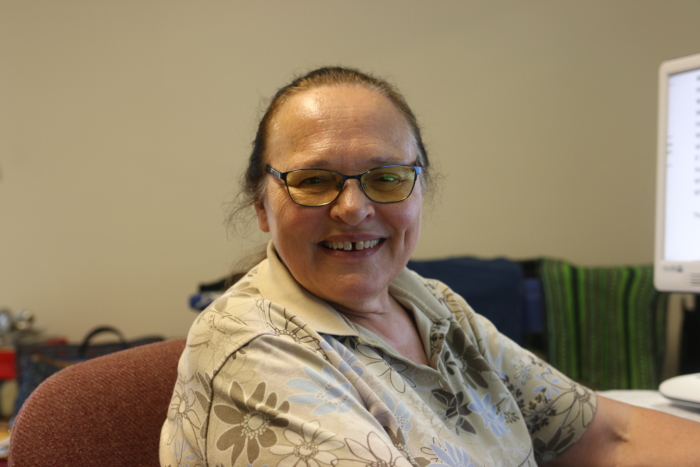 I went to Elkart, Indiana to visit Linda to learn about the assistive technology she is using after she worked with Jim Rinehart, Assistive Technology Specialist at Easterseals Crossroads to obtain technology that would help her work and live independently.
I learned that she was born in Iowa into a large family where there were 7 girls and 2 boys. Linda told me that growing up in a large family she had always been self-sufficient. Linda believes she has always had vision issues, but didn't realize it until later in life. Linda had some trouble in school because of her vision but didn't realize that was her problem. She said she had to work harder in school due to it and just got by.
Years later when Linda got married, they moved around Illinois a lot and then eventually moved to Indiana. Linda had gotten her college degree and had two boys by the time they moved to Indiana. Her husband, at the time, had a lot of health issues and had difficulty keeping employment so Linda got a babysitter for her young boys and started working. She worked as a home economics teacher for 5 years and held several sales positions including microwave oven sales. She had previously done microwave oven sales, but needed a job with health insurance.
Linda's oldest son began to have medical issues and eventually had a kidney removed and she had a 2nd child while her oldest was recovering. During this time, she was struggling to raise her boys on her own and she needed assistance to keep the home that she owned. She received assistance through a federal program and remained in her home. She then began selling insurance with Allstate Insurance in Elkhart, IN. When she started working at Allstate she no longer needed housing assistance, got divorced, and raised her two boys on her own. Linda continued to sell insurance for 15 years. During these years as an insurance agent, she lived in both South Bend and Elkhart, Indiana. Linda began to notice that some of her clients had several properties and thought that this might be a good investment for her as well. She began to buy rental properties in both Elkhart and South Bend. Because she had past experience with needing assistance to stay in her home she became passionate about helping other families get into homes and help them to build their credit. When Allstate started using computers it was very difficult for Linda to see the computer screens and the job became something she no longer enjoyed or felt equipped to do and she began to manage her rental properties full time.
Linda told me when she turned 65 that she desperately needed new glasses. She visited a new ophthalmologist and he told her that there was something more going on with her vision. She was referred to a doctor in Indianapolis who gave her steroid shots to try to improve her vision and then referred her to a doctor in Chicago who diagnosed her with Birdshot Retinochoroidopathy, which is commonly referred to as Birdshot Uveitis. This is a rare progressive inflammation of the retina that causes symptoms such as floaters, blurred vision, and flashing lights in eyes.
Due to the uveitis, Linda has trouble seeing things with low contrast. Linda has had eight surgeries. She has had cataracts removed, been treated with steroids, and has had glaucoma surgery on both eyes. After her second surgery, her eyes didn't line up anymore so she needed prisms in her glasses to correct the alignment, but her depth perception is still not accurate.
Due to her vision issues, Linda had to stop driving 4 years ago. She still owns a car and at times has a friend drive her. She also uses the bus system. She still has properties in South Bend and it takes her an hour by bus to get there. She plans to sell her properties in South Bend and keep her properties in Elkart.
Linda was having more and more trouble as her vision declined with real estate documents and getting prepared for church meeting she hosts in her home. A member of her church told her about Vocational Rehabilitation and she decided to find out what services would be available to her. Vocational Rehabilitation (VR) is a state agency that helps people obtain or maintain employment. VR referred Linda to Easterseals Crossroads for an assistive technology evaluation. An assistive technology evaluation is a one-on-one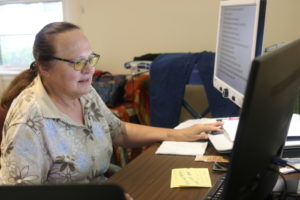 evaluation to determine the appropriate technology to meet the needs of an individual at home, work, school, or in the community. She was assigned to work with Jim Rinehart, Assistive Technology Specialist who came to Linda's home to assess her needs. He learned that she needed to read printed material such as rental contracts and to be able to access a computer. He recommended a large monitor so she could see larger print on a screen, a keyboard with larger keys, and a Merlin desktop video magnifier where she could put contracts under and enlarge and change the contrast.
All of this technology has allowed Linda to continue to perform her duties as a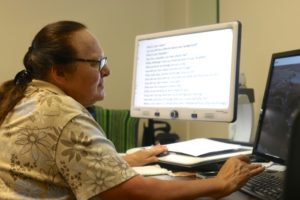 landlord and to continue to invest in real estate. Linda told me, "I wouldn't have learned how to use the technology if it wasn't for Jim who kept encouraging me. He kept saying, "you are making progress even when I thought I wasn't."" I am now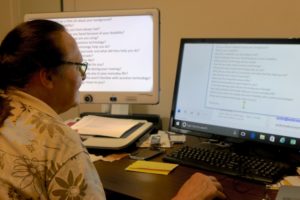 able to get on my computer to check house listings and conduct my rental property business. I am able to use my Merlin to read rental property documents and sign documentation that needs to be sent to my renters. The assistive technology allows me to continue my real estate business, which affords me to live independently.
I asked Linda if she had any advice for our readers and she said, "If you really try, you can learn to use technology. I'm no spring chicken and I learned. I believe the Lord helps those who help themselves. I believe with help everyone can be independent without government assistance. The lord gave you some talent, so use it. Take inventory of yourself and concentrate on what you can do not what you can't do. "
Linda said, "I had once been dependent on housing assistance and life has now come full circle where I can help my renters learn about building credit and help them get into a home of their own. I enjoy helping good renters through this process and now can continue to do that because of all of the technology that Jim recommended and trained me to use."