Waiting in line at the pharmacy is no fun; getting there in this winter weather is even less fun.  Then, once you finally get home, you have to organize your medications by days and doses.  PillPack is on a mission to simplify your life.  PillPack is a full-service pharmacy that sorts your medication by the dose and delivers straight to your door!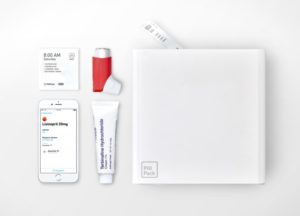 PillPack has redesigned every part of the pharmacy experience.  They do the hard work, so you'll never have to:
Sort your medication – they sort medications by the dose into individual packets
Wait in line at the pharmacy – they deliver directly to your door, every month
Chase down refills – they work with your doctors to automatically manage your refills
How PillPack works:
They combine convenient packaging, modern technology, and personalized service to make your life easier.
Every month, they'll deliver the following into easy-to-open packets, that fit into a discreet dispenser:

Medication, including vitamins and over-the-counter, sorted by the day and dosage
Other common pharmacy items (e.g. testing supplies, creams, inhalers)

They monitor your account so you don't have to worry.  This pharmacy:

Automatically works with your doctors to process refills
Regularly reviews your medication schedule
Manages your bills and claims directly with your insurance

They'll update your medication as it changes:

Let your doctors know that PillPack is your preferred pharmacy, so they can automatically receive new scripts
If you need to update vitamins or OTC's, you can make changes in the app dashboard or call the company directly
Visit their website to learn more.