It can be difficult to find a tray surface that adjusts to different pieces of adaptive equipment.  The Special Tomato Mobile Activity Tray provides "adjustability, maneuverability, and versatility for many situations."  It is an ideal tray to use while eating, practicing fine motor skills (e.g. writing, tablet work, etc.) or visual tracking or reading.
The Mobile Activity Tray is available in two sizes and can grow with your child: Short (tray height adjusts from 16 to 21 inches) and Tall (height adjusts from 20 to 28 inches).  Height adjustments can be made without using any tools.  The tray surface also has tool-free angle adjustability.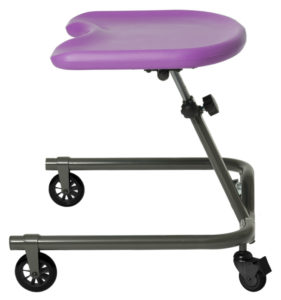 Features of Mobile Activity Tray:
The tray can accommodate most pieces of adaptive equipment because of its base width opening of 28 inches
Easy to move around from room to room;

3-inch front swivel casters make turning easy and have locks to keep the tray in place
4-inch rear casters are inline to keep the tray stable once the front swivel casters are locked

Available in 4 different colors:

Aqua
Lilac
Chocolate
Dark gray

The tray surface can be infinitely placed anywhere between 0 and 80º – all completely tool-free

Can be flat for mealtime, or tilt it slightly to work on fine motor tasks (e.g. writing, tablet work, etc.) or tilt it more to work on visual tracking
Click here to learn more!