Pressure vests are calming tools for individuals with autism, ADHD, sensory integration disorders and more.  According to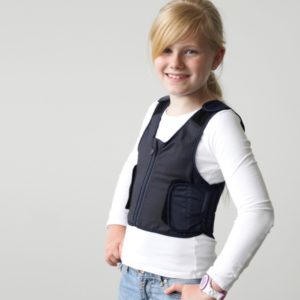 SpecialNeeds.com, "Pressure vests provide proprioceptive feedback to a child with a sensory processing disorder.  Proprioceptors are sensors that aid in a child's sensation of gravity and body movement, and proper functioning of these sensors is essential for accurate and appropriate movements."  If you're interested in learning more about pressure vests, check out the Squease Pressure Vest.
The Squease Pressure Vest is a lightweight, air-filled vest designed to apply a therapeutic pressure to the person wearing it.  It creates a hug-like pressure to help the wearer with sensory overload, improve concentration, and avoid meltdowns anywhere at anytime.
Please note: if you are new to deep pressure, the website recommends you consult an occupational therapist or medical professional familiar with deep pressure and sensory integration prior to using the pressure vest.
Features of the Squease Pressure Vest:
Provides hug-like pressure which can help improve concentration, prevent meltdowns, and more
Ideal for individuals with autism, ADHD, and anxiety or sleeping disorders
Vest can be worn almost anywhere at anytime because of its discreet profile
Wearer, teacher, parent, or therapist can inflate vest
Easy-to-clean material
2-year warranty
Click here to learn more about scientific research on the effectiveness of the Squease Pressure Vest.