"For many individuals, time in the kitchen is special.  It gives them a chance to be creative and have a result that is as delicious as it is beautiful."  Low vision and poor dexterity often make prepping and cooking foods extremely challenging.  Fortunately, there are so many kitchen advancements that allow individuals to continue to be as independent as possible.
One of the hardest and most dangerous tasks in food prep is cutting and dicing foods.  This is especially true for individuals with low vision, arthritis, poor dexterity, and more.  If you're looking for ways to make food prep easier and safer, check out the following products.
7 Assistive Kitchen Cutting Devices:
This list consists of different types of knives, choppers, and safety gear to make cutting and dicing easy and safe.
Cutting produce in the kitchen can be a hassle and even unsafe if you have vision or dexterity issues.  The Tomato Slicing Helper is a slicing aid that holds the tomato for you, while also providing guides to make even slices.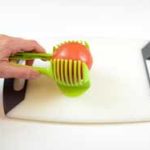 Features:
Keeps your hands out of the way of the knife blade while you're slicing
Even slices made quickly
Easy to clean with soap and water
Safe and practical
Peeling fruits and vegetables is both tedious and strenuous for individuals of all abilities.  The Chef'n Palm Peeler is a handy tool featuring a unique grip which slides right over your finger to give you a comfortable grasp.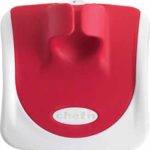 Features:
Slide finger through finger grip and use motion of your whole hand to peel vegetables while keeping fingers out of the way
Top rack dishwasher safe
Soft rubber finger grip
18/10 stainless steel blade
Slicing and dicing can be a dangerous task.  If you're looking for something to protect your fingers while you're cutting foods, check out the DigiGuard finger protector.  The DigiGuard easily slips over the fingers on the hand that's holding the food to be cut, guarding your fingers from accidental cuts.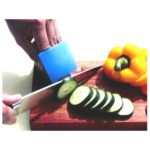 Features:
Protects fingers
Minimizes lacerations
Provides easy grip
Non-shedding FDA & NSF Certified Maaterial
Safely cut fish, meat, fruit, veggies, poultry, and more
Dishwasher and sanitizer safe
Looking for an all-in-one device to dice and slice your fruits, veggies, or hard boiled eggs? Prepworks Dice and Slice Chopper allows you to easily slice and dice strawberries, mushrooms, potatoes, zucchini, hard boiled eggs and more.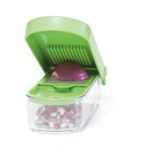 Features:
Comes with 3 interchangeable blades (for dicing, slicing, or cubing)
Clear base container catches cut fruits and vegetables

Features printed measurements up to 2 cups

Non-skid feet hold base securely in place while in use
Dishwasher safe; BPA free
Cutting foods can be difficult for individuals with low vision, especially when trying to cut on boards with zero contrast.  The Multi-Colored Cutting Boards make it easier to see the foods you're preparing.  You can use the blue board for carrots, green board for an egg, etc.

Features:
Use different boards for different colors of food to create a greater contrast
Flexible cutting boards which allows users to easily dump chopped items directly into pot or pan
Measures 11.5″ x 15″
Comes in 4 different colors: blue, green, yellow, red
NoCry offers a pair of cut resistant gloves that allows you to handle your grater, knives, and mandolin without worrying about cutting your fingers.  Compared to bare hands, the elastic material in the gloves makes keeping a firm grip on slippery items a snap.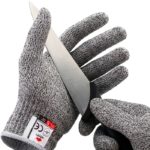 Features:
Made of food safe, ultra high molecular weight polyethylene, glass fiber, and spandex
Protects your fingers from even the sharpest of blades
Come in 4 sizes: small, medium, large, extra-large

Measure palm diameter to choose best size

Made from non-toxic materials
After each use, wash them in washing machine with mild detergent
Looking for a device that helps you deliver a perfect slice of bread, meat, and vegetables every time?  The Magna Wonder Knife from the Swiss Army company allows you to create even, consistent slices.

Features:
Swiss Army fabrication guarantees the finest manufacturing quality of any knife of its type
Serrated blade holds its sharp edge for a very long time
Available for left or right handed use
Thickness is adjustable from 1/16″ to 1/2″
Manufactured in Switzerland