Stuart Lombard was on a mission to reduce his family's carbon footprint and save money.  He found several ways to conserve energy, but most were complex and expensive.  After discovering that heating and cooling made up a majority of his home energy use, he soon founded ecobee in 2007.  Ecobee is a company that makes "wi-fi enabled smart thermostats for residential and commercial applications that are intuitive to use and beautiful to look at."  In addition to smart thermostats, the company now offers ecobee Switch+.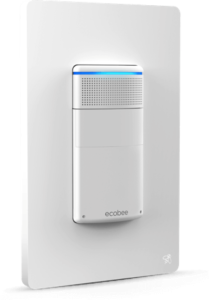 The ecobee Switch+ is the "first smart light switch to come with built-in Amazon Alexa."  With the Switch+, you can control your lights, complete tasks, play music, and so much more via your light switch!
ecobee Switch+ features:
First smart light switch to come with built-in Amazon Alexa
Easy to install:

Can be installed in about 45 minutes
Step-by-step videos and illustrations in ecobee app demonstrate how to install switch

You can rely on motion and daylight sensors to turn lights on, or ask Alexa

You can also use the ecobee app or do it the old-fashioned way using the button on the Switch+

With multiple ecobee devices throughout your home, you can control different parts of your house from any room

Uses Echo Spatial Perception so only the closest Alexa device will respond

Built-in temperature and occupancy sensors for peace of mind
Some things you can ask:

"Alexa, give me a recipe."
"Add eggs to my shopping list."
"Alexa, what's the temperature outside?"
And so much more!
Click here to learn more.