There are so many talking watches available on the market for individuals with visual impairments it can be hard to choose one.  VocaTime offers a large selection of talking watches for both women and men.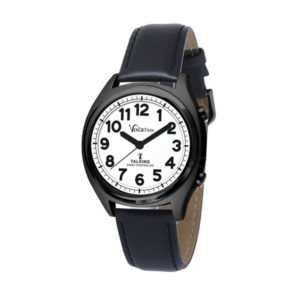 Instead of covering all of their available watches, I am just going to highlight the VocaTime Atomic Talking Watch with Leather Band.  The VocaTime Atomic Talking Watch is the "ultimate talking watch" which synchronizes the voice perfectly with its hands to provide an easy setting and accurate timekeeping.  Also, the "exceptional Dual Voice feature enables you to freely select or change as you wish the voice type of your preference."
Features of VocaTime Atomic Talking Watch:
Premier audio analog watch that automatically synchronizes the voice with the hour and minute hands
Dual voice technology allows you to switch between American female or male voices
Bold, color-contrasting hands and numbers for easy visibility
High-quality leather band to ensure maximum durability
1-year limited warranty
The S1 button can be pressed once to hear the exact time, or twice to hear the day, month, and year
Click here to learn more about the talking watch.