Silent Call Communications is a company established in 1985.  Their products are designed for individuals who are hard of hearing, deaf, deaf-blind, heavy sleepers, or wear a hearing aid.  One of Silent Call's products is the AlarmDock.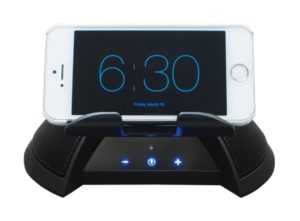 The AlarmDock product line is an innovative way to use your smartphone as an extra loud alarm clock or a bed shaker.  You are also able to stream your favorite music from your smartphone in "clear, full sound using the AlarmDock Wireless speaker."  In order to use the AlarmDock, you have to download the free app on either Android or iOS devices.
Features of the AlarmDock App:
Quick download
Large clock readout, both vertical and horizontal with multiple colors
Alarms and timers
Volume and tone control
Will activate (phone) flasher
Easily manage your settings and wireless connections
Add the shaker module, power cube, and bed vibrator
Available on both the App Store and Google Play
AlarmDock Wireless Docking Station with Speaker Features:
2-in-1 wireless speaker and phone stand with bed shaker
Extra-loud alarm up to 100 dB
Easy to operate
Stream your music
Touch-sensitive controls
2 broad-frequency response speakers
Rich, 360º, crystal-clear sound
Built-in rechargeable Liion battery provides up to 10 hours play time
Wireless and audio (port) connections
Memory pairing capability
Two–way USB port, plays and charges at the same time
Click here to learn more.