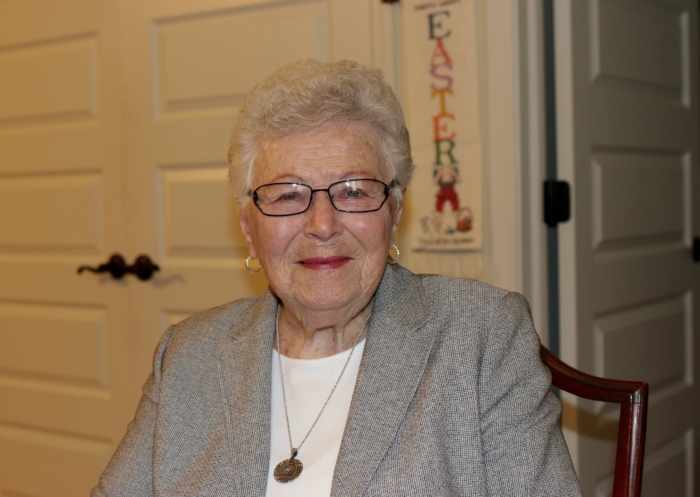 I went to Carmel, Indiana to meet Tula Mae Cross to learn about her experience in using The INDATA Project at Easterseals Crossroads' Equipment Loan Library. In talking with Tula Mae, I learned that she was born in January 1925 in Indianapolis, Indiana. Her father was born in 1861 and had Tula Mae when he was 63. Her dad was an Evangelical United Brethren minister. Tula Mae graduated from Tech High School in Indianapolis. She met Merle Cross, who also went to Tech H.S. in church and after Merle returned from serving in the US Army Corps during WWII, they married and settled in the Indianapolis near eastside in her childhood home.
They married and had 2 children. During the time that she was married, Tula Mae always worked outside of the home. She first worked as an administrative assistant to the credit manager at L.S. Ayres. It is there that she became pregnant with her first child. Tula Mae told me that in the late 40's insurance companies would not allow a woman to work past their 5th month of pregnancy so she left L.S. Ayres. After she had her son, Bob, she started working part-time in an Indianapolis elementary school. She worked at School 33 helping in the principal's office. Two years later she had her daughter, Nancy, and then came back to work at the school and worked full time in the administrative offices.
In 1957, she started working for the Jefferson National Insurance Company. She worked as secretary to the Mr. E Kirk McKinney, Sr. CEO/President and E. Kirk McKinney, Jr. who was Vice President. She continued to work for his son when Mr. McKinney, Sr. passed away. She then became the company's Assistant Corporate Secretary. She worked for the company for 33 years and decided to retire when they sold the company. Tula Mae told me she thought very highly of her employers and made many lifelong friends through the company.
Tula Mae's husband passed away in 1987. After his passing, she worked until 1990 and then retired. After retirement, she kept herself busy with volunteer work and travel. She volunteered one full day a week at St. Vincent's in Carmel where she served as a liaison for family members in the surgery center. She would keep people aware of what was going on with their family member in surgery and help the nursing staff. She also was a member of the Easterseals Crossroads' Guild. The Guild is a group of volunteers who work to support children with special needs at Easterseals Crossroads. She worked with the Guild for 3 years and loved working with the young children in early intervention classrooms.
Tula Mae enjoys traveling and spending time with family and friends. She has 2 grandsons and 3 great grandchildren who live in Colorado. Tula Mae has taken month long road trips through the west. She has been to Singapore, London, Paris, and takes regular fall trips to Myrtle Beach.
Tula Mae and I discussed why she reached out to The INDATA Project and she told me that a few years ago that her family members told her that they thought she had some significant hearing loss. She then started to notice that she needed to turn up the television louder to hear it. Tula Mae said with a laugh, "I thought I was still hearing fairly well." She eventually got hearing aids.
Most recently she had been having trouble with hearing people on her home phone. She had particular trouble with hearing automated phone systems when she called a business.
Tula Mae's daughter-in-law, Helene Cross, had worked as the Executive Vice President at Easterseals Crossroads and was familiar with our Assistive Technology department. She was not sure what help could be provided for her mother-in-law but she reached out and learned about our Equipment Loan Library and Device Demonstration program.
The INDATA Project provides device demonstrations to help people determine what type of assistive technology would be available to maintain or increase their independence. The equipment loan specialist will spend 20 minutes with an individual to show them equipment and show them the basic features of the device so the consumer can make an informed decision and determine if equipment is useful to them before they would spend their own money purchasing equipment. Often times, assistive technology is not available to take a look at in retail stores so this provides an individual with a hands-on experience with a device.
If someone thinks a device might be helpful after the demonstration they can then take advantage of The INDATA Project's Equipment Lending Library. The library is an assistive technology loan program. Through this program, people in the state of Indiana can borrow assistive technology for free for 30 days. This then allows someone to use their device at work, school, or in their home to further investigate if it will be a useful technology for them. The goal of the program is to help individuals make informed decisions about the equipment that will work best for them and in the long run save them from spending money on equipment that is not useful.
Helene reached out to the Equipment Loan Specialist, Justin Amber, and discussed with him Tula Mae's difficulty in using her telephone. Justin set up a time to come to Tula Mae's home and bring several telephones for her to take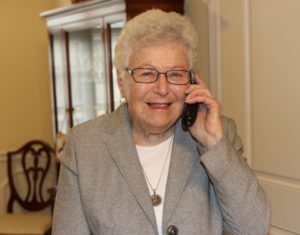 a look at and see if they were helpful. Justin brought a couple of amplified phones. He learned that she was not interested in a captioned telephone. She felt as if the captioned phones were too big and she did not want to read the captions. She ended up preferring an amplified cordless phone with answering machine.  After being able to try out several of the phones, Tula Mae ended up purchasing the ClearSounds A700. She did not feel like she needed captioning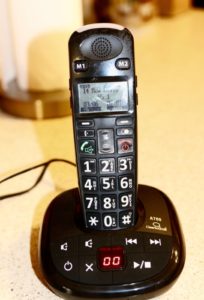 at this point and is using this phone successfully. The amplified phone has 40 dB of incoming sound amplification, which was enough amplification for her to hear callers with her hearing aids. This amplified phone allows her to increase the volume on her calls, the ringer, and voicemail.
Tula Mae discussed her frustration with her hearing loss. She has the most difficulty in restaurants, talking in large groups, and talking on the telephone. She told me that she finds that people are often impatient with people who have hearing difficulties. She said, "If you have cancer you get sympathy, but if people have to repeat themselves they get easily frustrated and sigh." I asked Tula Mae if she had any advice for our readers and she said, "If your family is telling you that you have a hearing problem, you probably do and you should get a hearing test." Tula Mae was pleased to be able to use the library to determine what was the best equipment for her. She was able to determine what worked best for her and said, "It was an individual preference in my choice of equipment and it was helpful to try the different phones and learn what my preference was."