Several individuals with many diagnoses are unable to feed themselves independently.  They then rely on others to help feed them.  There is now an assistive eating device, called Bestic, that gives individuals back their independence during mealtimes.
Bestic is ideal for individuals in a variety of situations:
Those who get exhausted when using their arms while eating
Individuals with big uncontrollable movements/spasms
People who want to increase their activity level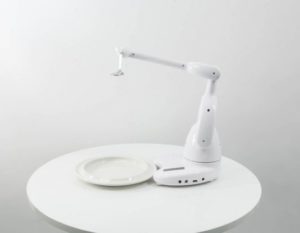 The button on the device can be controlled with any part of your body such as your knee, head, or chin.  Once it's set up, you simply press the button to guide the spoon to your mouth.  After you're done eating, the device is easy to clean.
Features of Bestic:
Portable with the travel case (measures 13.4″H x 8.7″W x 7.9″D)
Runs approximately 5 hours on a full charge
Inputs: USB and 3.5 mm jack plug
Possibility to set spoon height and depth depending on the user's seating position
FDA-registered Medical device Class I
Certified and CE-marked as a Class I device for the EU
Weighs 4.4 pounds
Click here to learn more!