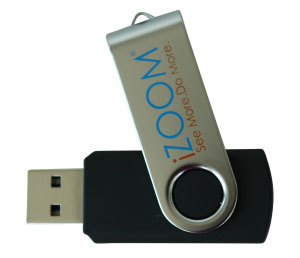 If you are unable to clearly see what is on your computer screen because of a visual impairment a screen magnifier may be helpful for you.  Screen Magnification Systems allow people with low vision to enlarge text and graphics that are displayed on a computer screen. Screen readers are software programs that allow blind or visually impaired users to use a computer. It reads the text that is on a computer screen with text to speech optical character recognition.
A new screen reader called iZoom Screen Magnifier &Reader can enlarge anything you see on the computer screen. It can change colors of the screen for those who benefit from seeing things with a different contrast. It also has a reader that will read to you out loud what is shown on the computer screen. With this program you can select the best font size, color and personalize how fast and loud the speaking will read the screen. This program is compatible with PC's running Windows XP/Vista
The advantage of iZoom over many screen reading systems is that you are not locked down to only using it on one computer. The iZoom is on a USB and you can attach it to your keychain so you are able to take it anywhere and use it on any computer. You won't have to reconfigure it each time you use it as it saves all of your settings. You just plug it in and there is no installation, no license agreements, and no administrative access like many other screen readers have. With it being on a USB you have the convenience of taking it with you and being able to use it at school, work, the library, and anywhere you are using a computer.
iZoom Screen Magnifier & Reader features:
Magnification Levels-allows you to magnify as little as 1.25X to 36X magnification.
Zooming Modes- 8 different zoom modes such as: full screen zoom, lens zoom, line zoom, split screen zoom
Font Smoothing-ClearPoint font smoothing maintains clear text quality regardless of the zoom level. This technology assures that the text has no pixilation or jagged edges.
SmartAlign-Re-aligns an entire paragraph to fit the screen
Mouse Enhancements-you can make your mouse larger and change the color so it is easier to find on the screen.
Hotkeys-Shortcut keys on the keyboard that allow you to change any of the settings.
Screen Reading- reads the text that is shown on the computer screen.
Mouse Echo-reads text automatically wherever the mouse is pointed
Typing Echo-will speak what you type by letters, words, or line preference
Adjustable Voice Features: configure how fast and loud screens are read
iZoom has a fully functional trail for free for 30 days. Pricing for the iZoom is under $400. Click here to learn more or purchase the iZoom Magnifier/Reader USB.