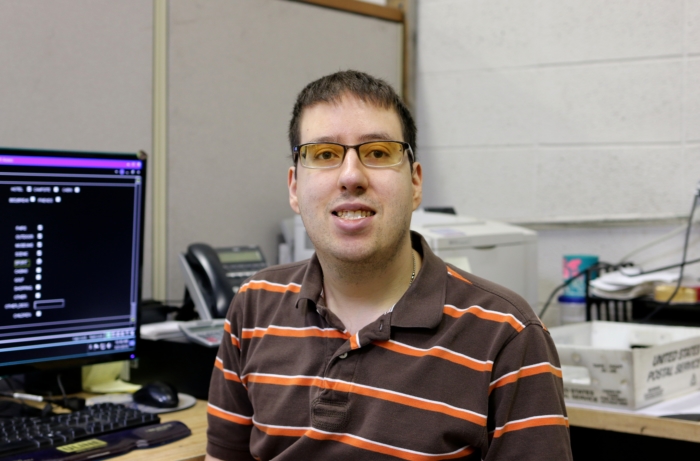 I traveled to Fort Wayne, Indiana to meet Geoffrey Avery at Post Masters. Post Masters is a print and mail service provider that manages printing, mail, and fulfillment services for companies. My visit with Geoffrey was to learn about the assistive technology evaluation and training he had received at Easterseals Crossroads, which has enable him to work at Post Masters independently.
I arrived at the facility and was greeted by Geoffrey's supervisor who took me back into the factory for a tour and to see the stations where Geoffrey works. After the tour, I sat down with Geoffrey to learn a little more about him. I learned that he was born in Fort Wayne, Indiana in 1998. When he was born, he was immediately taken to Riley Hospital in Indianapolis because he was born with congenital hydrocephalus, which is the buildup of cerebrospinal fluid in the brain.
Hydrocephalus can permanently damage the brain, causing problems with physical and mental development. If untreated, it is usually fatal. Geoffrey told me that he was in and out of hospitals all of his life.
In 2002, Geoffrey started having kidney issues and had a kidney transplant from a kidney his father donated to him. When Geoffrey was not in the hospital he went to public schools and graduated from Northrop High School in 2007. He has one older brother and one younger brother and lives with his parents.
After graduating high school, he went to college at Ivy Tech Fort Wayne. He started studying accounting, but found it difficult and decided to switch to office administration. He graduated with an associate's degree in office administration.
Geoffrey then began to do volunteer work to gain work experience. He volunteered at Parkview Hospital, where he did office work, sorting, and filing. He also volunteered at Turnstone at their casino nights and sporting events. Turnstone is an agency that provides services such as therapy, wellness, sports and social service programs to individuals with disabilities.
As a result of having hydrocephalus, Geoffrey has had vision problems most of his life.  His vision has gradually gotten worse and he started really having trouble with his vision in 2010. In September 2017, he told me that he lost most of his vision. He said, "I woke up one morning and couldn't even see my family."
After losing his vision, he started Orientation & Mobility (O&M) training to learn how to use a cane. Geoffrey had been a client with Vocational Rehabilitation in college. Vocational Rehabilitation is a state agency that helps individuals with disabilities to obtain or maintain employment. He contacted VR to pay for his O&M training and to start looking for office positions once he completed the training.
He was then referred to Benchmark Human Services. Benchmark Human Services assist individuals with disabilities find employment. At Benchmark, he was assigned to a job coach and they began to look for office positions. In February 2017, he did a 3-week trial at Post Masters to determine what tasks he could and could not do and if that employer would be a good fit.
Geoffrey really liked it at Post Master's and they wanted to hire him to work part-time after his trial period. Vocational Rehabilitation referred Geoffrey to Easterseals Crossroads for an assistive technology evaluation to determine what type of technology would be available to assist him in his job tasks at Post Masters. Geoffrey was hired to sort and stuff things such as hospital packets, supplies for the ICU, and Indiana visitor packets. He also would need to enter address of people that would like information into the Post Master database.
For his evaluation, Geoffrey was assigned to work with Jim Rinehart, Assistive Technology Specialist, at Easterseals Crossroads who had worked with him a little when he was in college. Jim met with Geoffrey at his home to discuss his needs at his new place of employment. After learning about the tasks he would be doing at Post Masters, Jim determined that accessing a computer and printed material was Geoffrey's biggest challenge. Jim recommended that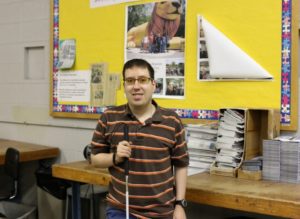 Geoffrey have a desktop video magnifier to magnify printed material. They determined that Geoffrey does best with white print on a black background and a desktop video magnifier will allow a user to change the color of the text and background making it easier to see. One of Geoffrey's biggest challenges was needing to be mobile using his white cane and moving from work stations. Jim said, "Using the cane occupies one hand so we had to think of a solution that would get the job done and still be compact and mobile enough to carry around the shop and store on the days he doesn't work. We found the Topaz Phd magnifier was best to meet his needs. It folds down like a laptop and is light enough to carry while being large enough to get the visual field he needed for the data cards."
Geoffrey also has ZoomText at home, which is a software for his computer. ZoomText is a screen magnification and reader that enlarges and enhances everything on a computer screen. It also has a reading feature that will read the text that is displayed on the screen. Jim also recommended a handheld CCTV, which is a portable handheld magnifier that will enlarge print and has the ability to change the contrast of the printed material on the screen.
Once Geoffrey received his equipment, Jim installed everything and trained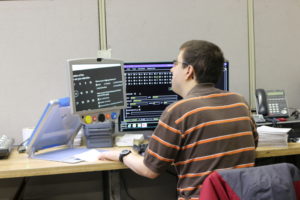 him on using the equipment. Geoffrey now uses the desktop video magnifier at Post Masters, which allows him to magnify the print on the data cards and then he can input them into the database. Jim and Geoffrey also spent time creating a system for Geoffrey to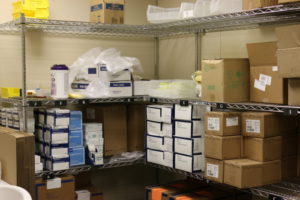 pack the ICU packages that they assemble for the local hospital. They created bins with large letters on them for each of the different parts. When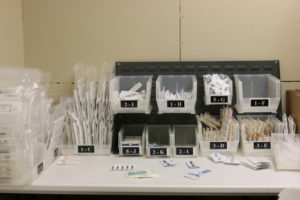 Geoffrey needs to replenish items for the packets he is able to easily do so with this system.
Geoffrey is now a valued and productive employee with Post Masters. He told me he really enjoys the job and would not be able to do it without the technology he received trough Vocational Rehabilitation. He said,  "I never knew any of these things existed before I worked with Jim. I use magnification any time I have to read or type anything. I really love the desktop magnifier. Although I like the smaller handheld when I am on the go, it's hard to get everything on the screen where as the desktop let's me see all of it without moving it."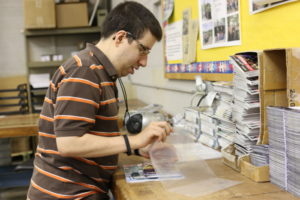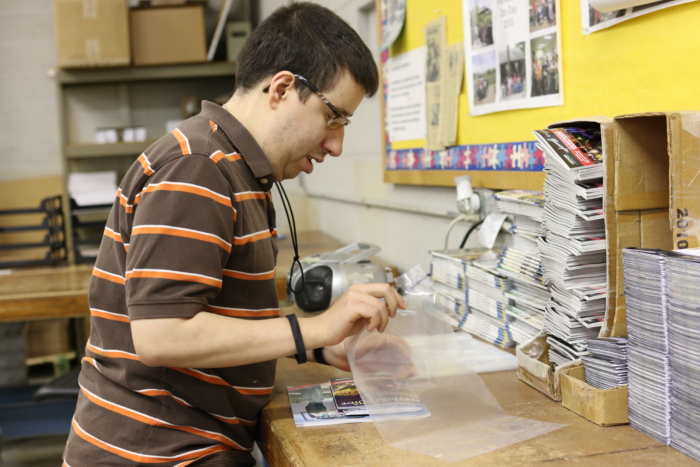 Geoffrey told me he loves his job. He said, "I like mixing it up and having several different jobs. The variation is nice. The staff is friendly and I have a lot of fun here." Geoffrey works 2 days of week and also volunteers at the hospital one day a week doing office work.
When Geoffrey isn't working or volunteering at the hospital he enjoys listening to classic rock like Bob Seger and playing the Madden NFL video game on his computer. With assistive technology Geoffrey is able to both "work hard and play hard."