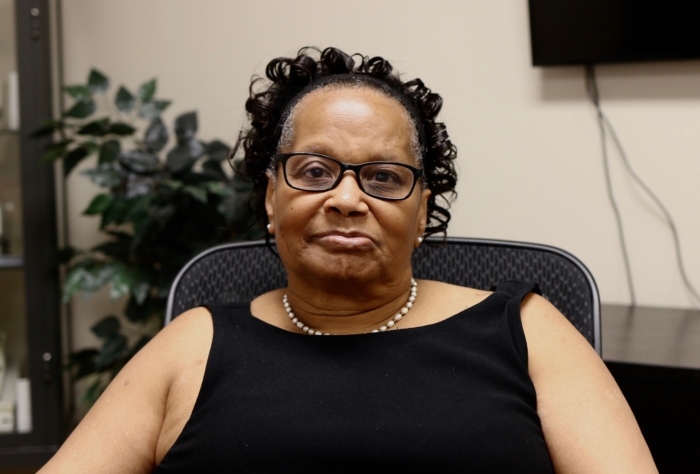 I scheduled a time to meet with Rebecca so I could learn about her experience in using The INDATA Project's services.  Rebecca lives close to our office and was unable to arrange transportation so I went to her house to pick her up. When I met her, I instantly felt like I had made a new friend. I really enjoyed our car ride over getting to know each other as we came back to Easterseals Crossroads and I found Rebecca to be a kind, intelligent, and soft yet well-spoken woman.
I asked Rebecca to tell me a little about herself and I learned that she was born in Indianapolis, Indiana. She graduated from Harry E. Wood High School in Indianapolis. Harry E. Wood High School no longer exists. I later learned it closed in 1978. Rebecca then went to college at Marion University, Indiana University, and the University of Indianapolis. After obtaining her degree, she took a job at the Department of Indiana Rehabilitation Services. She worked as a claims adjudicator for Social Security, where she evaluated claims to determine an applicants' medical eligibility for Social Security disability. Rebecca worked there from 1973 to 1977.
Rebecca then took a position with the Department of Treasury. She worked as a tax examiner manually calculating taxes for corporations. She loved her position and became a lead tax examiner. She transferred with the Department of Treasury to Louisiana in 1985 to assist with a backlog of casework. She stayed in Louisiana for 10 years and then came back to Indianapolis with the Department of Treasury in 1995.
Rebecca developed glaucoma while working at the Department of Treasury. She had it under control for years until she started to care for her mother who had gotten sick. When she started having significant trouble with her vision, she needed accommodations to assist her in doing her job. Rebecca became very sensitive to fluorescent lights in her work cubicle so her employer had the lights tinted pink to diffuse the light, which offered a simple solution to her sensitivity. She was then given a ClearView desktop video magnifier. A desktop video magnifier is a magnifier that is used in a fixed location and allows an image to be magnified onto a video monitor or computer monitor. She was able to use that magnifier to read her correspondence and continue to work independently.
Over the years, her vision got progressively worse. She had five eye surgeries in attempt to correct her vision. She eventually was not able to continue working and went on civil service disability in 2007. She then cared for her mother who was sick and in 2011 she injured her back lifting her mom. She broke her foot twice and her glaucoma continued to get worse. She had a shattered disc and had back surgery in 2012. In 2013, she began to walk with a walker and had a brace on her foot. She had the brace removed in 2014 and stated to get around a lot better. She still uses a cane, but tries not to use it when she walks short distances because it causes her to bend over, which can cause more strain on her back.
Rebecca's mom has since passed away and it has been very difficult for Rebecca. She said, "It has been so hard to lose my mom. She was always so encouraging. She was my sunshine and she encouraged me to remain positive despite my health concerns."
Rebecca also has a daughter and a niece she is very close to who both live in Indianapolis. Her niece lives near her and takes care of her often. Rebecca told me, "She is my angel. She is always looking out for me. She takes me to doctor appointments, helped me read my mail, and helps me with anything else I need."
When Rebecca started having significant problems with her vision, she contacted BOSMA Enterprises who then visited her to teach her how to be more independent in her home. While they were there, they made some accommodations that would allow Rebecca to be self-reliant such as adding bump dots to things like her microwave. Bump dots are a great way for individuals who are blind or have low vision to tactually mark items to make them easier to identify and operate. The representative from BOSMA also provided her a talking clock and filters for her lights to help with her light sensitivity. They then told Rebecca about the Indiana Vision Expo. The Indiana Vision Expo is held at the Indiana State Library and provides an opportunity for people to learn about resources available to individuals who are blind or have low vision.
While Rebecca was at the Vision Expo in 2017, she visited the Easterseals Crossroads booth and learned about The INDATA Project. She learned that The INDATA project at Easterseals Crossroads has a free assistive technology loan program available to anyone who lives in the state of Indiana. These short-term loans assist our clients in making informed decisions about the assistive technology they might use at work, school or home. Equipment includes devices for persons with visual, cognitive, hearing, mobility, learning, and other impairments. She learned that The INDATA Project offers assistive technology demonstrations to assist people in determining what type of assistive technology might be right for them. Free demonstrations are scheduled so that each participant spends up to 20 minutes with an assistive technology professional to learn the basic features of the assistive device. In order to help people in Indiana with their assistive technology purchasing decisions, we offer device demonstrations of over 2000 assistive technology devices.
She also learned about accessABILITY , which is an independent living center that assists people in finding resources that will increase a person's independence and help keep them living independently in their home. When they visited Rebecca to learn what types of resources she was in need of they discussed her difficulty in reading printed material. She told them that she had to wait for her niece to come over so she could read her mail to her.
The representative from accessABILITY got Rebecca in touch with Justin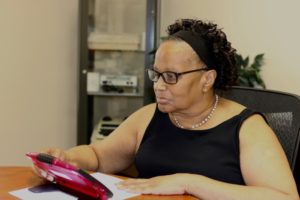 Amber, Equipment Lending Specialist, at Easterseals Crossroads to discuss what types of equipment might be helpful for her. Justin scheduled a time to come to Rebecca's home and showed her some equipment that could help her read her mail independently. They discussed desktop magnifiers and Justin told he that there are also handheld magnifiers. Rebecca did not know about the handheld magnifiers and was interested in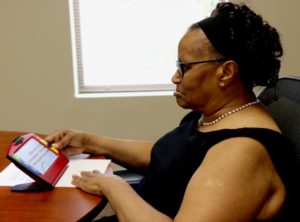 learning more about them. Justin brought the equipment to her home and after they discussed some options, Rebecca was interested in borrowing the Ruby HD Video Magnifier. This portable handheld video magnifier has a 4.2 inch widescreen LCD, 2x-13X continuous zoom, 20 high-contrast color viewing modes, built in LED lighting, freeze frame with adjustable magnification and the ability to hold up to 80 images. This magnifier is lightweight (only weighing 8 oz.) and has a 2-hour in-use battery life.
Rebecca told me that she had always been an avid reader. She said that she wanted to get her library card when she was 3-years-old and they told her that she had to be able to write her name to get a card. She went home, practiced, and got her library card and read all the time! Rebecca has not been able to read for a long time and this has been very disappointing for her. She said that learning about the portable handheld magnifier meant not only that she could read again, but that she could take it to church and read her bible or be able to sit in the park and read. She also said she was excited that she didn't have to be dependent on her niece to read her mail. She said she doesn't like to burden her all the time even though she is so graciously helpful and that it was nice to have a little privacy even if she would probably tell her niece everything anyway. Rebecca said, "it's so nice to be independent and have a choice in what information I want to share with someone or do things on my own. Justin brought the Ruby out to me in February and I was able to prepare my taxes on my own. It was a great feeling."
Rebecca told me that she had been "pretty low since losing my mother" and that she was feeling that she did not have a purpose. She told me that her world opened up right after Justin's visit. She said that being able to read independently has given her new hope and now she is interested in either finishing a degree in paralegal studies she started years ago or in getting her master's in Christian counseling. Rebecca would love to work with women in battered shelters. She told me she understands feeling lost, hopeless, and not knowing where to turn and she would love to give back to people in need and help them find the light at the end of the tunnel and find a purpose again like she has since meeting with Justin.
On the way to take Rebecca home, I enjoyed learning about her daughter's acting career and how much we both love animals. I learned that she has had pet rabbits that she really enjoyed and that was one more special connection for us as I have a pet bunny that I love. I walked Rebecca to the door and thanked her for a lovely day and she told me that it was lovely for her as well. I was so thrilled to learn how our services made such a positive impact on Rebecca's life and can't wait to hear about the things she will do in the future with the use of technology. Anywhere she decides to work in the future will be lucky to have such a smart and caring person on their team!
For more information about the assistive technology loan library or to schedule a demonstration please contact Justin Amber by email at: jamber@eastersealscrossroads.org or phone at 888-466-1314.