Go wherever life takes you! The Suitcase® Singlefold Graphite Fiber Ramp is ultra-lightweight and exceptionally strong, a flexible and adaptable solution to help people with limited mobility overcome some of life's physical barriers.
The ramp has a unique material composition made with glass-reinforced graphite fiber. It's available in five sizes and features a singlefold design.
With the SUITCASE Singlefold GF Ramp, you'll get the very best. It's the perfect choice for active users and caregivers. Features include a slip-resistant coating for excellent traction, full-length folding joint for additional strength and high visibility lines on the outer edges for added safety.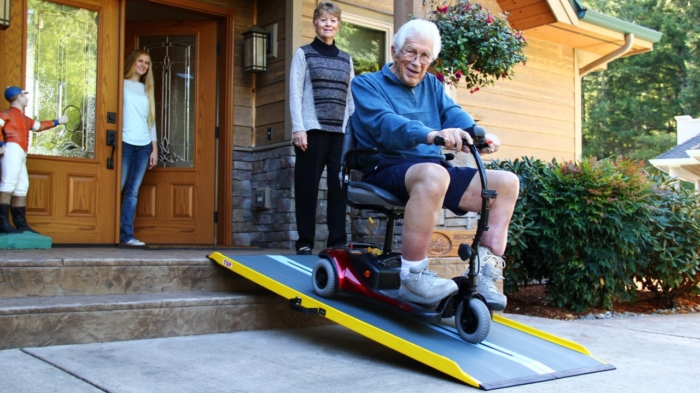 Features include:
It's lightweight! The SUITCASE Singlefold GF Ramp utilizes industry-leading technology and provides the ultimate weight capacity at the lightest weight possible. It is the lightest folding ramp in the industry, and you can take it wherever you go! You can overcome life's barriers with easy transport.
Comfortable, ergonomic handles. These make your ramp easy to carry, wherever you may go. The flexible, non-breakable handles feature a durable design and comfortable grip.
A coating that's slip resistant. The ramp's slip-resistant coating ensures you'll be safe everywhere you take it. Weather can turn in an instant, and the SUITCASE Singlefold GF Ramp makes sure you're prepared.
Ramp hinge for strength. The ramp's folding joint runs the full length of the ramp. It protects against pinching. This ensures it's easy to set up and take down.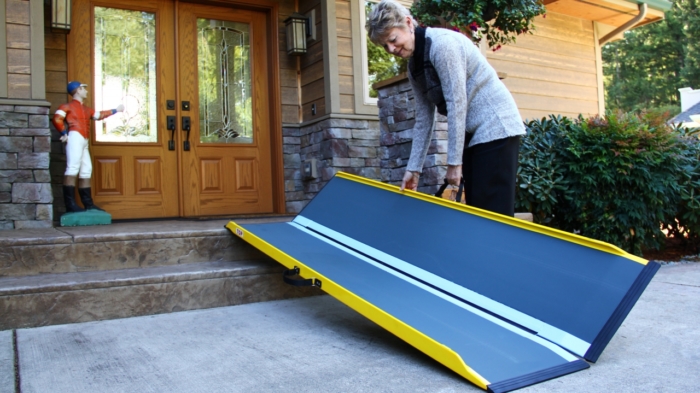 Check out this video!