I have written about several smart home appliances over the years.  While a lot of the technologies I write about can quickly become old news or outdated, anything related to smart home devices remains valid.  If you are wanting to turn your standard lamp or appliance into a smart device, one easy way to do it is through a smart plug.
According to The Wirecutter, "A smart plug-in outlet is a perfect starter device for someone interested in smart-home technology: this small device plugs into any standard electrical outlet, letting you use a phone or tablet to control whatever you've plugged into the smart outlet, as well as to set up schedules and integrate the device into larger smart-home activities."
If you are interested in learning about different smart plugs, keep on reading.  There are so many available options on the market that it can be overwhelming to find the one that works best for you.  Hopefully the following list of 5 different options will help you out!
5 Smart Plug Options
The Belkin Wemo Mini is a smart outlet adapter for individuals who want to add remote control and automation to their existing fans, lamps, or other electrical devices.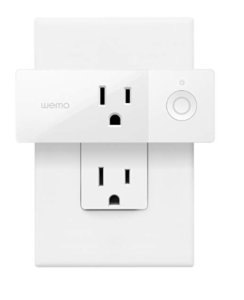 Features:
According to The Wirecutter, it is "the most reliable Wi-Fi smart plug" they tested (out of 26)
Voice control with Amazon Echo devices, Apple HomeKit, and Google Assistant; works with Apple HomeKit automatically
Compact, sleek design
Easy to set schedules and timers
Away Mode turns plugged-in lights on and off randomly to create the illusion that you're home even when you're not
The Insteon Smart Plug is another option for a plug in smart module.  One "con" with this module however, is that it requires the Insteon Hub to work.  Insteon also offers a sleek, in-wall outlet that works independently; click here to learn more.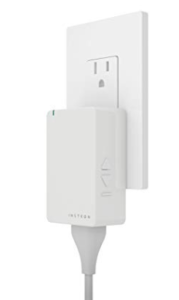 Features:
Compatible with Amazon Echo devices; use your voice to control Insteon lights and appliances with Amazon Echo
Ability to control lights and appliances from your wrist with the Insteon app on the Apple Watch
Requires Insteon Hub to control from any smartphone or tablet (iOS, Android, and Windows compatible)
Controls small appliances up to 1800 watts
Etekcity offers an affordable smart plug option that works without a central hub.  The Voltson WiFi Smart Plug allows you to create customized schedules for your devices so that they run when you want.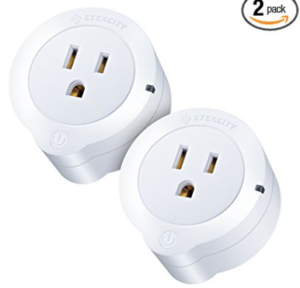 Features:
Works with Amazon Echo devices, Google Assistant, and IFTTT
No hub required; Voltson simply connects to your home network
Turn connected devices on/off wherever you are at any time
Easy to install
The Edimax SP-2101W Smart Plug Switch with Power Meter easily plugs into any wall outlet and enables you to switch or schedule a connected device on/off from your smartphone.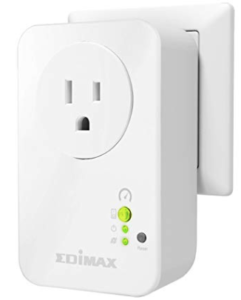 Features:
In addition to easily switching devices on/off, this plug monitors the status and power usage of your appliances
You can get data about power usage around your home with daily, weekly, and monthly stats available to help you identify where you can save energy
With mobile app, you can easily schedule timers and more for lights, fans, and other electrical devices
Works with your existing Wi-Fi network; no hardware installation is required
5. iClever IC-BS06 Outdoor Smart Outlet:
If you are looking for an affordable smart outlet to control different appliances outside, check out the iClever IC-BS06 Outdoor Outlet.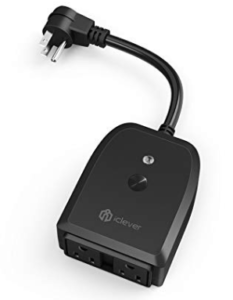 Features:
Can be used indoors and outdoors; the power strip is completely water-resistant so you can use it outside for your sprinklers, sound system, lights, and so much more
Easily set timers for your devices to turn on/off
Power strip equipped with surge protection and timing settings that eliminate potential hazards like power surges and overheating
Compatible with Amazon Echo devices and Google Assistant