Many individuals with mobility impairments can have a hard time transferring and balancing on a standard toilet seat.  Traditional toilet seats tend to wobble and shift as individuals try to transfer on and off.  The Big John Toilet Seat is an ideal solution for this problem.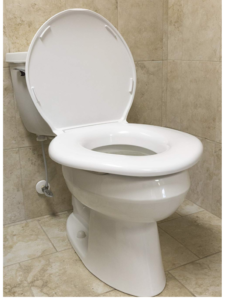 The Big John Toilet Seat "has a more comfortable opening and a luxuriously contoured seating surface that is roomier than any other toilet seat on the market."  The seat is easy to install; only requires a wrench or pliers for installation.  There are several models of the Big John seat but all of them feature stabilizing synthetic rubber bumpers to keep the seat from shifting.
Features of the Big John Toilet Seat:
All models are ADA compliant
Stainless steel hinges provide "unbreakable strength"
Made from the highest grade of ABS plastic which is both stain and chemical resistant
Uniquely engineered to perfect fit either a round or elongated toilet bowl
Can hold 800-1,200 pounds (depending on the model)
1½ – 2½ inch rise (also dependent on the particular model)
Click here to view Big John Toilet Seat brochure.
Click here to learn about other accessible bathroom options.