Playing cards is either impossible or very challenging for individuals with visual impairments.  QRSpeak created a whole new way of playing cards for these individuals with their Cards that Talk.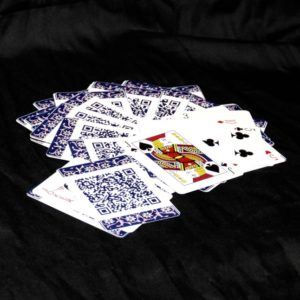 The Cards that Talk set comes with standard 52 playing cards (plus 2 jokers = 54 cards total).  It is used in collaboration with the Cards that Talk app on the App Store.
To play, you simply place the card under the camera on your iOS device and it will read your card to you.  You can wear an earpiece so only you know what cards you're holding.
Features of Cards that Talk:
The app is free to use, but requires purchase of playing cards first
App features:

Continuous scanning; no tapping the screen after each card
Variable speed control for voice
Large start scanning button so there's no fumbling trying to find it

The cards are professionally printed and will hold up like any other deck of cards
Unlike other playing cards designed for users with visual impairments, these cards have no braille on them so they are smooth and easier to shuffle and play with