Smartphones have been a game changer for individuals with visual impairments.  There are several accessibility features and apps that help said individuals complete daily tasks.  WayAround is one example of these apps designed to simplify your life.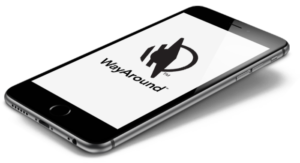 According to the app's description, WayAround is "a smart assistant that gives on-demand details about everyday things for anyone with blindness or vision loss."  It uses a simple tag-and-scan approach to help you easily identify what's around you.
Features of WayAround:
Works "seamlessly" with VoiceOver and other accessibility devices (e.g. braille displays)
The app's interface uses high-contrast colors, icons, and large font to make the app more accessible
Uses Near Field Communication technology to give you information when you need it
Add descriptions of items plus details
Pre-populated lists to add common information
Compatible with voice dictation
Automatic cloud backup via user accounts
Works on both iOS and Android devices.
Listen to my podcast on WayAround here.