There are several things to consider if you're looking for a toy or gift for a child with autism. Oftentimes children with autism like to keep to themselves, and playtime is a great time to teach!  It's important to look for toys that encourage social interaction.  Keep on reading to learn more about different parent-child interaction toys and games.
Bonnie Fisher, an Autism Resource Specialist at Easterseals Crossroads, and mother of a child with autism, was recently interviewed on local Channel 13 regarding toys and autism.  During her interview Fisher said:
"Kids on the spectrum are just like typical developing peers; the only difference is in their play they might isolate themselves.  So we want to pick a toy that requires a certain amount of social engagement, and we want them to get excited about playing.  And we want to be excited about playing with our child because we can develop social skills and communication skills while playing."
So in sum, it's ideal to consider the following while shopping:
Look for toys that require a certain level of social interaction
Choose something you can work on with your child
Try finding toys with a "wow" factor to keep children interested
Be mindful of the child's sensitivities (e.g. no lights or loud sounds, etc.)
5 Parent-Child Interaction Toys and Games:
There are many toys and games to choose from, but I'll only highlight a handful.  The following list consists of a variety of toys, all which encourage parent-child interaction.
According to the game's description,  it is "the fastest, easiest word game you'll ever play!"  You simply shake the dice dome and watch as the dice settle into their slots to reveal a random set of four letters.  (If your child prefers numbers over words, check out Shake & Make Dice.)  The first person to call out a word from the four letters earns a point.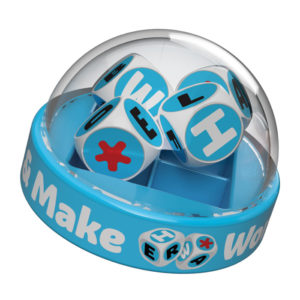 Features:
Mini dice game of rolling random letters and racing to make words
Encourages quick thinking, vocabulary skills, creativity, problem-solving skills
Whoever yells out a 4-letter word that uses the letters on the dice wins a point

Whoever wins the most points wins the game

High quality design and materials for lasting durability
Ages 6 and up
I came across Toyk, a flying ball on the Amazon Special Needs toy list.  It can be controlled by either your hands or included remote.  Children will especially be mesmerized by the colorful LED lights while the ball is flying.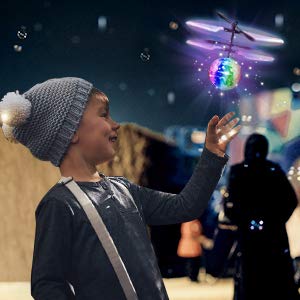 Features:
Parents and children alike will have fun watching the Toyk Flying Ball in the air
While holding the ball vertically, turn on the power switch at the bottom and press the button on the remote

"Hold for a while – When the flying ball is on, it will delay to fly in 2 or 3 seconds.  Then before letting it go, you need to hold the flying ball vertically until the flying is steady."

When the ball is flying, you can use the remote to make it stop
You can control the height of the ball with your hand due to sensors underneath the ball
Comes with: 1 Toyk Flying Ball, 1 remote control, and 1 USB charging cable
For ages 8 and up
Are you looking for a sensory toy that will engage your child while fostering cognitive development?  The BizyBeez MagStix 41-piece wheel set is a great option.  "This building blocks set features magnetized sticks and colorful metal balls that can be combined in an endless variety of ways with a simple click."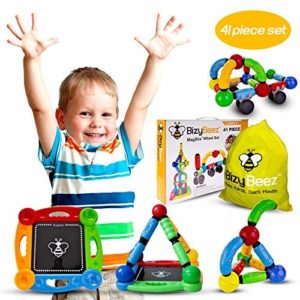 Features:
41-piece building set features 4 different textures, making it ideal for children with sensory processing issues
Comes with Portable Playboard so you can take it with you on the go
Creates a sense of calm and promotes focus
Encourages imaginative play, working with others, and more
For ages 3 and up
Board games are great for teaching social skills, turn-taking skills, and much more.  Socially Speaking is a game that helps children learn "the art of social communication."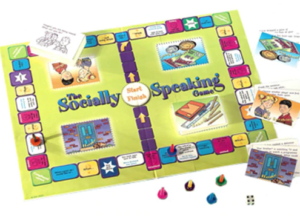 Features:
Skills covered in this game include:

Listening to your peers
The importance of taking turns
Making phone calls
Asking good questions
Showing emotions

For 3 to 6 players
Comes with game board, 100 question cards, playing pieces, and facilitator's instructions
Teaches key skills that players can use at home, school, or in their community
For ages 7 and up
Give your child a fun, hands-on introduction to electronics with Elenco Electronics Snap Circuits.  This is also a great parent-child interaction toy as parents can help their child create projects.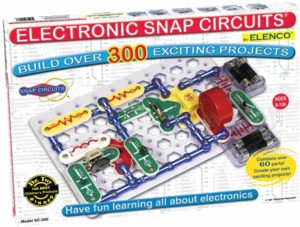 Features:
The Snap Circuits SC-300 kit comes with over 60 pieces to create 305 different electronic projects
No soldering, no tools
Pieces include snap wires, a microphone, a resistor, a slide switch, and capacitors
Each piece is color-coded and numbered to make identifying them easy
Ages 8 and up
Brian Norton, Director of Technology Services at Easterseals Crossroads, was also interviewed on Channel 13.  During the interview, Norton discussed the INDATA Project's Equipment Loan Library.  Our library features over 2,500 items available for loan.  This is great if you're not quite sure how your child will react to certain toys or games.  Contact Equipment Loan Specialist, Justin Amber, at 317-466-2013 if you have any questions!