Looking for a way for your child to practice dressing skills?  Check out the Basic Skills Board.  The Basic Skills Board is a dressing board that teaches children how to snap, zip, buckle, and tie.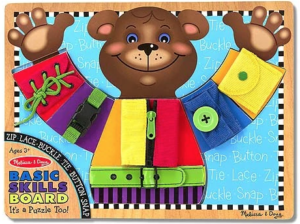 The board is ideal for young children as well as those with poor dexterity.  It features large buttons, laces, and a zipper making it easier for the smallest of hands.  "Hide and seek artwork makes it fun to remove pieces an peek underneath too!"
Features of the Basic Skills Board include:
Help children take another step towards independence by mastering zipping, buckling, snapping, lacing, and tying
A fun toy to practice dressing skills
Each dressing skill is contained on a separate, wooden puzzle piece for easy practice
Young children will especially love the bright and cheerfully illustrated bear
The board allows children to not only practice dressing, but also develop and strengthen their fine motor skills
For ages three and up
Click here to learn more!