Looking for a way to turn your landline telephone into a voice-activated telephone?  Vocally Freedom is a plug and play device that allows you to do just that!  When Vocally is plugged in, users are able to use the phone without the need to press buttons, enter numbers, or hold a telephone receiver.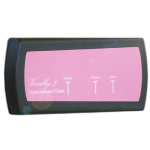 Users can store up to 60 numbers to redial later on.  "Dialing takes place by saying the name of the person whom you are calling.  It can be used by lifting the telephone receiver or via speakerphone (depending on user's phone model)."
Features of Vocally Freedom:
Stores and dials up to 60 phone numbers

Numbers can be up to 35 digits long

Does not interfere with regular line and phone use
"Very fast dialing with no mistakes"
Recognizes any language, tone, and accent
Interactive voice menu
State of the art voice recognition technology
Stored names playback
Small, compact size
FCC parts 15 & 68 approved
A prefix digit and delay can be easily added or removed from all numbers (at once) to enable, and wait for, outside lines
During a call, voice dialing can be activated again.  This feature enables users to use the dialer in online banking services etc.
Click here to learn more.